Editor's Note: Each summer, BankBeat recognizes banking industry up-and-comers, nominated by readers, who are making a significant impact to their institutions and communities. This annual tradition is sponsored by United Bankers' Bank, Bloomington, Minn.
Before he invites you into his office, Mike Scholl offers you a tour of his New Brighton, Minn., branch and apologizes for the condition of the building's grounds. The landscaper had just planted 500 begonias, which weren't yet in bloom, but wouldn't be back with the rest of the plants until later. "We want to be the crown jewel, the pride of the neighborhood," he says.
Scholl's enthusiasm for his branch is completely justified. He oversaw its move from nearby Columbia Heights three years ago and balanced the delicate task of reaching out to the new community while retaining relationships through the old one.
Scholl, a senior vice president and commercial lender with Minneapolis-based Northeast Bank, serves as branch manager for Northeast Bank's New Brighton office. Scholl is one of seven mid-career bankers being honored by BankBeat as a Rising Star in Banking.
Columbia Heights is a small, close-knit community just north of Minneapolis in Anoka County. It had played host to a Northeast branch for 40 years. The decision to move to a new city in a different county, though only 2.1 miles away, brought big changes and wasn't taken lightly. Scholl set out to make sure Columbia Heights didn't feel abandoned while introducing New Brighton to the vibrant $443 million Northeast Bank and its community-focused business model.
The bank didn't hold a traditional ground-breaking for its new office. Instead, it invited a local high school choir to sing the national anthem at a flag-raising. The bank also partnered with the Mounds View school district foundation, which has yielded unexpected fruit. Scholl initially had trouble finding staff to fill part-time afternoon teller positions, until he reached out to high school students. A handful of students have held the position; one continues to work part-time for the bank while attending college and another returned for a summer internship.
One of the ways Scholl skated the boundary between the bank's established market and its new one put him in cold water. In the midst of the branch's move, Scholl met with the executive director of Southern Anoka Community Assistance, an area food shelf. Moved by SACA's mission and needs, Scholl approached the Northeast executive management team with a proposal: the bank should step forward as lead sponsor of SACA's Fire and Ice Plunge, both in support of a worthy cause and also as a declaration of continued support for and investment in the Columbia Heights community.
Given the community need and the timing, Scholl said the bank's support "could be really impactful."  Management went back and forth on the idea before agreeing with one condition: if Scholl agreed to plunge, the bank would be the title sponsor.
"And I said, 'Sure, why not.' That was a year before we were actually going to sponsor the event, and I thought they'd forget," Scholl said. But they did not forget, so in 2016 Scholl stepped up to the edge of the hole chopped out of the ice covering Silver Lake and jumped in.
The plunge wasn't a one-off.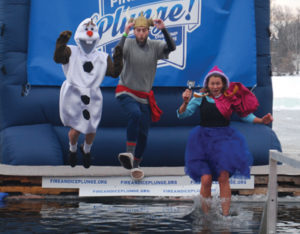 Scholl enlisted Northeast colleagues to jump too. And, he was so inspired by SACA's mission that he challenged himself to raise far more than the minimum $40 pledge. He succeeded, netting the non-profit about $2,000 per plunge over the past three years. Last year, Scholl won an award for the most personal contributions. Scholl has no plans to stop plunging.
That dedication to setting and fulfilling high personal goals is a trait Scholl has carried with him since the beginning of his career. He started at Landmark Community Bank after graduating from the University of Minnesota-Duluth with a finance degree in 2002. As a young commercial lender, Scholl built his portfolio from scratch. Before Scholl left for Northeast in 2008, he had built that portfolio into the bank's largest.
Just last year, Scholl graduated with honors from the Graduate School of Banking at Colorado, Boulder. He also sits on the board of Anoka Technical College Foundation, spending the last two years as president. For the school's 50th anniversary last year, Scholl and the board set a series of goals, and met them all, including providing $200,000 in scholarships, crossing the $1 million mark in revenue, and acquiring a five-axis Matsuura vertical mill for its machining center through a mix of fundraising and leveraged funds from the state. At a cool $325,000, it's the largest equipment purchase the foundation has made.
Those leadership skills were recognized by Northeast executives early in Scholl's time at the bank, said Chief Operations Officer Gail Mikolich. "You could tell he was going to be very successful," she said. "He's an empathetic leader, which I think is one of the most important qualities a leader can have."