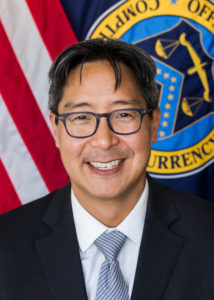 Acting Comptroller of the Currency Michael Hsu advised policymakers, regulators and banks to take "a careful and cautious approach" to the cryptocurrency sector. Hsu described the problems he sees within the crypto industry and how banks and regulators should adjust during an Oct. 11 address to a roundtable on institutional investors and crypto assets held by Harvard Law School and the Program on International Financial Systems.
Financial regulatory agencies can avoid becoming too accommodative to the crypto industry by working together, Hsu said. "Sharing information with peer agencies and seeking a common understanding of the risks and opportunities in the space can help ensure that regulatory standards remain high and the playing field stays level," he added.
Since much of the crypto industry relies on promotion and bootstrapping to grow, Hsu said, those who don't understand the industry are investing based on a fear of being left behind. "Promises of innovation and inclusion often mask crypto's promotion of a 'gold rush' vibe that exploits people's fear of missing out on the next Google or Amazon," Hsu noted.  
Banks looking to undertake "novel and riskier" crypto activities need to accept tighter regulatory controls, Hsu said. "Banks seeking to engage in crypto activities may want to carefully consider the scope of what they want to do, start with what can be most readily risk managed, and impose gates, through limits and other controls, to prevent uncontrolled expansion and growth into higher risk activities," he added.
Policymakers and regulators currently zeroed in on crypto activities should instead focus on more pressing topics, like the role of non-crypto fintechs in banking, Hsu said. 
The comments came as the decentralized currencies remain in a downturn as evidenced by the recent implosions of the blockchain payment platform Terra, crypto platform Voyager Digital and crypto hedge fund Three Arrows Capital. 
Regulators say the industry lacks necessary safeguards to protect consumers and the overall financial system. Early this month, the Financial Stability Oversight Council said crypto assets could threaten the stability of the U.S. financial system if regulators don't enforce current regulations and aren't granted more power over the space. 
The Financial Stability Board has found that the rapid growth of crypto could threaten global financial stability because of its market scale, increasing interconnectedness with the traditional financial system, and structural vulnerabilities. Last November, the OCC issued an interpretive letter stating that national banks needed to determine whether any crypto-asset activities they want to take are permissible before receiving a supervisory non-objection.