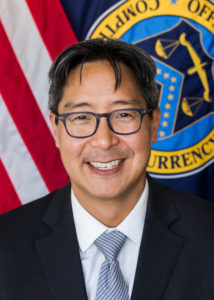 The Office of the Comptroller of the Currency is reviewing its bank merger policy, Acting Comptroller Michael Hsu said on May 9.
Hsu's comments came during a presentation before the Brookings Institution public policy think tank. His pledge to work with the Department of Justice and other banking regulating agencies to update the guidance comes as Acting FDIC Chair Martin Gruenberg, a Democrat, says he intends to take a stronger stance on bank mergers than his predecessor, Jelena McWilliams.
To Hsu, the rise of nonbanks, credit unions and large tech companies entering the payments landscape, the increasing use of technology by consumers, and burgeoning economic equality make reevaluating the guidelines necessary.  
Currently, the OCC relies on considerations under the Bank Merger Act, including the impact the proposed deal would have on competition; the safety and soundness of the plan on the financial system; the impacts any merger would have on the communities the banks serve; and other factors. Hsu noted that many guidelines the OCC relies on were developed years ago. 
Since the Department of Justice's Bank Merger Competitive Review Guidelines were last revised in 1995, industry assets have ballooned from $5 trillion to nearly $25 trillion while the number of insured depository institution charters has fallen by approximately 60 percent.   
 Though Hsu said the framework for analyzing bank mergers needs to be updated, he is not calling for a moratorium on M&As. He gave no indication that the current foundation of M&A reviews would be completely overhauled. 
"Without enhancements, there is an increased risk of approving mergers that diminish competition, hurt communities, or present systemic risks," he noted. "On the other hand, imposing a moratorium on mergers would lock in the status quo and prevent mergers that could increase competition, serve communities better, and enhance industry resiliency."   
Reviewing big-bank mergers has been a major priority for Democrats and was a key issue leading to McWilliams' resignation. During the last part of McWilliams' tenure in December, three Democratic members — CFPB Director Rohit Chopra, Hsu and Gruenberg — sought to launch a regulatory process related to mergers without the support of Trump-appointed McWilliams. She blocked the request from being published and turned back a push to have the vote reflected as a valid board action. The Democrats' request for information later appeared on the CFPB website, along with a joint statement from Gruenberg and Chopra.