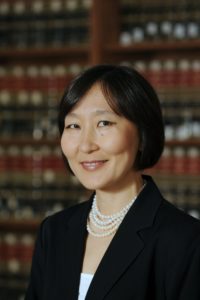 The Independent Community Bankers of America is formally opposing Joe Biden's nomination of Saule Omarova as Comptroller of the Currency. 
The ICBA and numerous other banking trade groups described their opposition to her nomination in a three-page letter to the Committee on Banking, Housing and Urban Development. 
The letter, sent Wednesday, described Omarova's support for a "National Investment Authority," which, along with the Fed, would become "the ultimate public platform for generating, modulating, and allocating financial resources in a modern economy." The groups also cited Omarova's October 2020 paper advocating for a "People's Ledger," which calls for the complete migration of demand deposit accounts to the Federal Reserve's balance sheet. The paper also advocates for a comprehensive qualitative restructuring of the Fed's investment portfolio. Omarova has said the reforms "would make the financial system less complex, more stable, and more efficient in serving the long-term needs of the American people." 
The banking groups disagreed. 
"Funding would be contingent on the extension of 'qualified' loans in accordance with specified underwriting and other eligibility criteria," they wrote. "This could easily lead to politicization of credit allocation. This proposal is anathema to community banks and would undermine the role they play in driving local economic activity and development."  
To the groups, Omarova departs from the longstanding view that the free market is valuable in providing and creating credit, beliefs that "jeopardize American economic growth." 
 "Our opposition is based on a careful review of Professor Omarova's record of published scholarship and public statements on the topic of American banking policy," the groups wrote. "Her positions are alarming to community banks.
"The comptroller should have a fundamental understanding of the role that community banks play in supporting local economic growth. Professor Omarova has advocated the displacement of community banks with government credit allocation."
Omarova, a lawyer, is the director of the Program on the Law and Regulation of Financial Institutions and Markets of Cornell's Jack Clarke Institute for the Study and Practice of Business Law. As reported by the Associated Press, she is set to appear in front of the Senate Banking Committee Thursday as part of her nomination. 
Committee Chair Sherrod Brown, D-Ohio, supports Omarova and spoke highly of her private and public sector experience Thursday. "She embodies everything we ought to celebrate — the fighting spirit that makes this nation great," he said. "The tenacity to strive for a better life. And the openness and opportunity of America that attracts the best minds — from all over the world, from all backgrounds."
Ranking Member Pat Toomey, R-Penn., disagreed.
"My concern with Prof. Omarova is her long history of promoting ideas that she herself describes as 'radical,'" he said. "I agree that they are radical. But I'd also describe them as socialist. In fact, I've never seen a more radical nominee to be a federal regulator."