Old National Bank, Evansville, Ind., has announced the following additions to its board of directors:
Ryan Kitchell is executive vice president and chief administrative officer of Indiana University Health, Indianapolis, where he previously served as chief financial officer since 2012. Kitchell was president of IU Health Plans from 2011 to 2012 and treasurer of Indiana University Health from 2010 to 2011. Before joining IU health, Kitchell worked under former Indiana Gov. Mitch Daniels, first as public finance director and then as director of the Office of Management and Budget.
Kitchell has an economics degree from Indiana University, Bloomington, an MBA from the Tuck School of Business at Dartmouth, Hanover, N.H., and has the Chartered Financial Analyst designation. He serves as a director on several boards including the Indiana State Chamber of Commerce.
Tom Salmon, who has more than 20 years of manufacturing experience, is chairman and CEO of Berry Global, Inc. Salmon has been with Berry Global since 2003 and most recently served as Berry Global's president and chief operating officer. Prior to Berry Global, Salmon was with Honeywell Plastics, Allied Signal's Engineering Plastics and Films and GE Plastics and GE Lighting, divisions of General Electric.
Salmon has a Bachelor's Degree in business administration from Saint Bonaventure University, Allegany, N.Y.
Community First Bank of Indiana, Kokomo, announced the addition of Pete Smith to its board of directors.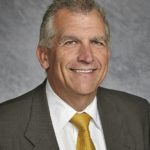 Smith, a graduate of Bethel College, Mishawaka, Ind., is a retired educator who recently became a business development consultant for Indianapolis-based Performance Services, an engineering company specializing in design build, solar energy and guaranteed energy savings opportunities for school corporations and municipalities.
Heartland Financial USA, Inc., Dubuque, Iowa, announced that Martin Schmitz has been elected to serve as a member of its board of directors. Schmitz, who currently serves as a director for Citywide Banks, has also been elected chairman of the board of directors for Citywide Banks.
Schmitz previously served as chairman of Citywide Banks which was acquired by Heartland in 2017 and simultaneously merged with Centennial Bank and Trust. Schmitz represented the second generation of family leadership for the bank's holding company, its 12 branch locations and subsidiary businesses. Previously, he oversaw business development and the bank's commercial banking operations. He was with the organization for 21 years and transitioned the bank from a $275 million organization to a 1.4 billion organization at the time of sale.
Schmitz also serves as a trustee on the Regis University Board and previously served as Chairman of the Bankers Bank of the West and Chairman of the Colorado Bankers Association.