Editor's Note: Amazing Outside Directors are people who invest in the success of their local community banks by contributing skills, insights and analysis to bank governance, all while helping their institutions develop new relationships. BankBeat thanks program sponsor Eide Bailly for helping us tell the stories of these amazing individuals.
Mark Guetzko's career path will be familiar to many community bankers. He grew up in a construction family in Manchester, Iowa, and started his post-college life by leaving the area and experiencing the wider world as a young engineer — first in Colorado and then in southern California.
A combination of family circumstances led Guetzko — who is being recognized by BankBeat as a 2019 Amazing Outside Director — back to the Midwest, and back into a small, family-owned construction company. He joined Seedorff Masonry in Strawberry Point, Iowa, in 1988, and helped build it from a small contractor into a bustling masonry company with projects from Wyoming to the Quad Cities, Minneapolis to Kansas City with regional offices dotting the Upper Midwest. From that early start, Seedorff Holdings, Inc. — under Guetzko's guidance now as CEO — has added Architectural Wall Systems, which focuses on building exteriors.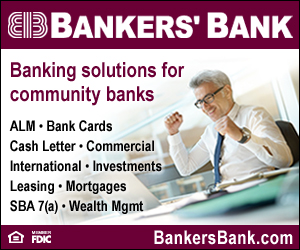 The move means Seedorff can function as a "one-stop shop" for the exterior envelope of a building. "We've got architects and engineers on board where we can actually get involved early on in the project and help them design the exterior wall system for energy efficiency, economy and aesthetics," Guetzko said.
That responsibility and sense of ownership for processes from start to finish has transferred into his guidance of F&M Bank, said Tirzah Wedewer, senior vice president and chief financial officer at the $586 million Manchester, Iowa, bank. In 2001, he was invited to join the bank's advisory board, which serves as a sounding board for the bank's communities and market areas. He was such an engaged, outstanding advisory member that four years later F&M Bank decided his expertise belonged on its board of directors.
The lessons Guetzko has learned managing a successful business have transferred into his governance approach at F&M as well, whether that's working on the bank's internal processes or sharing his experience to the bank's clients who might need a little extra advice.
"Everything that we see within the bank, from succession planning to transition to leadership, to organizational behavior, there are a lot of similarities between my own business and how that functions within the bank," he said. "And then when you can, you can establish some process in a board meeting to allow that experience to come up and be applicable in the discussion."
Wedewer praised Guetzko's problem-solving skills and the initiative he's shown during his time on the board, particularly the leadership he's shown in improving the board itself.
Guetzko spearheaded a revamp of the bank's strategic plan, freeing the document from a rarely consulted binder on a shelf to a one-page dynamic document that actively guides the bank's development and operations. Initially, the document was only re-examined when it was time to update it, a process led by an external consultant.
"Now we've got a living, breathing document that we revisit about every 90 days," Guetzko said, creating an urgency which drives the bank to achieve its goals. "There's constantly pressure to move that plan forward."
That revitalization wouldn't have happened without Guetzko's prompting, Wedewer said. "He was incredibly active in customizing and implementing that, all the functions of designing a strategic plan," she said.
He also leads the internal audit committee and has supported the bank's internal auditor, "which is not an easy job to do within the bank," Wedewer said, "but he has been so in support of her and shown a great leadership in that position as well."
Additionally, he initiated team-building retreats for the bank's leadership team and management about 10 years ago. The group will select a leadership or business improvement book and read it in preparation. Guetzko then leads participants in a discussion of the book and how its lessons can be applied to the bank.
"Typically it's just food for thought for the board and for the senior management team to take a look at how we function and how the organization behaves and how we can continue to be better," he said.
Whether it's expertise garnered from running a successful business, his board leadership, or management development, the insights Guetzko brings to F&M Bank have been invaluable.
"I can't emphasize the engagement and coming prepared and taking it to the next level enough," Wedewer said. "Even for regular board meetings, he always brings something extra to add to the discussion."