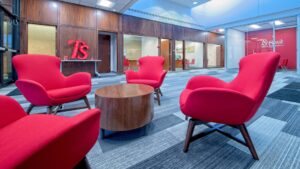 Treynor, Iowa-based TS Bank recently opened a branch in Ames, Iowa. 
The location, which opened as an LPO in June 2020, became a full-service branch in early April, according to a May 17 press release. 
A ribbon-cutting ceremony is slated for September. The bank has completed a partial interior remodeling project on the approximately 5,000-square-foot building. TS Banking Group acquired the location in 2019 from Springfield, Mo.-based Great Southern Bank.
According to TS Bank, the Ames market provides "a central location to assist in expansion across Iowa. This venture will allow TS Bank to serve clients and grow loans, deposits, investment and wealth management clients in the central Iowa corridor." 
The $393 million bank hired Kelli Hecker as branch manager in Ames. Hecker, who has more than 15 years of banking experience, has an Associate of Arts degree from Waterloo, Iowa-based Hawkeye Community College and a Bachelor of Science degree from Iowa State University in Ames.