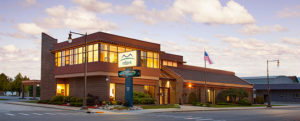 Mackinac Financial is keeping Michigan's Upper Peninsula busy, having announced its acquisition of Wisconsin's Lincoln Community Bank last week, less than a month after it closed its acquisition of First Federal of Northern Michigan Bancorp, Inc.
With this deal, the Manistique-based Mackinac will have nearly doubled in asset size over the last two years, to $1.4 billion from $740 million. It has made three other recent deals in addition to its proposed acquisition of Lincoln Community Bank.
"As with our previous two Wisconsin acquisitions in 2016, this transaction is a good strategic fit for the company," commented Paul D. Tobias, chairman and CEO of Mackinac and chairman of mBank. "The branch locations and market cultures complement our current footprint and will move us closer to larger commerce centers in the region. The economics of the deal meet the key metrics we require as a board and management team as well."
Mackinac will pay $8.5 million in cash for the Merrill, Wis., bank, which has one other office in Gleason, Wis. Lincoln Community has $65 million in assets, $40 million in loans and $58 million in deposits.
The deal will increase the branch network of Mackinac's mBank to 31 from 29 and push its assets to $1.40 billion and gross balance sheet loans to roughly $1.05 billion.
This marks the fourth acquisition Mackinac has made in two years. Last month, it finalized its acquisition of Alpena-based First Federal of Northern Michigan Bancorp, Inc., in the northeast corner of the Lower Peninsula. That deal came with seven branches, $320 million in assets and $283 million in deposits.
In 2016, Mackinac acquired Niagara Bancorporation, Inc., Niagara, Wis. and First National Bank of Eagle River, Wis. Niagara brought four offices, all in northeast Wisconsin, and $70 million in assets. The FNB Eagle River deal, closed in early 2016, marked Mackinac's first acquisition outside Michigan. It brought three offices and $140 million in assets.
"We are extremely pleased to be able to partner with another long-standing community-focused institution in the state of Wisconsin for our next transaction," said Kelly W. George, mBank President and CEO and president of Mackinac. "We will look to expand current client relationships and move forward in developing new customers in a region where the business ecologies are quite similar to our other Wisconsin and Upper Peninsula of Michigan markets."
After the deal's expected close late in the third quarter, Lincoln Community will be merged into mBank.
Mackinac was advised by Piper Jaffray and the law firm of Honigman Miller Schwartz and Cohn LLP. Lincoln was advised by Hovde Group, LLC and the law firm of Ballard Spahr, LLP.