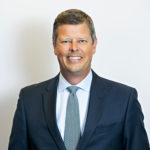 Stephen Bishop was named president and CEO of Minnesota Bank & Trust, Edina, succeeding Ken Brooks.
Bishop joined the $719 million bank in June 2019 as executive vice president and head of commercial banking. He has 25 years of commercial banking experience, most recently as executive vice president of capital finance at Wells Fargo.
He previously served as president of the Turnaround Management Association, a non-profit that helps with corporate restructuring.
Bishop graduated from Northwestern University, Evanston, Ill., and received an MBA from the Carlson School of Management at the University of Minnesota – Twin Cities.
"Since joining our team, Steve's collaborative leadership style [and] track-record of delivering positive results fulfilled our leadership vision for Minnesota Bank & Trust," said Steven Ward, executive VP and regional president for Heartland Financial USA Inc., the bank's parent company.
Brooks had been president of Signature Bank, Minnetonka, Minn., prior to its acquisition by Heartland Financial in 2017. He became president of Minnesota Bank & Trust when Signature was merged into the bank.