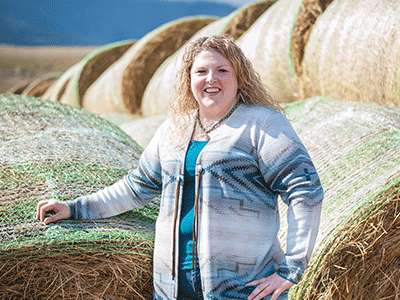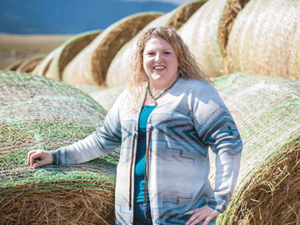 Heather Malcolm wants people to understand that ag lending is more than a subset of commercial lending. In fact, Malcolm believes ag lending is different enough — and the ag relationship important enough — that she invested time and talent to advocate resurrecting the agricultural track within the American Bankers Association's Commercial Lending School, including writing some of its curriculum. The relaunched ABA Agricultural Lending School hosted its first cohort in 2019 and Malcolm was scheduled to teach a course on the cattle industry this summer, but the 2020 school was canceled due to the pandemic. 
In lieu of in-person learning, Malcolm encourages her industry peers to learn by whatever means possible. "We can all learn something new every day — within the ever-changing commodities markets, production methods, even financial analysis. You can always hone your skills." It's a lesson Malcolm picked up as a youngster raised on a cattle ranch.
Malcolm, vice president of ag lending at the Livingston, Mont., branch of Bank of the Rockies, and current chair of the ABA Ag and Rural Bankers Committee, is part of a talented cohort of community bankers being recognized this year as Rising Stars in Banking by BankBeat magazine.
In addition to her public role as an advocate for agricultural lending, Malcolm is an organizational leader for 4-H, guiding and advocating for the future of farming operations. Her 4-H mentorship has been especially critical as she's called upon to help youngsters, ages 9 to 18, understand that all of the time and energy they spent planning their summer camp has not been wasted even though camp had to be canceled. "We talk about being in the same ocean wave, just maybe in different boats," she recounted. "This is beyond any decision we made."
Malcolm's roles in agriculture — banker, rancher, 4-H mentor — they coalesce; vocation becomes avocation. "She's an advocate, not only for the industry but for her customers," said Mike Grove, Bank of the Rockies president and CEO, in an earlier interview. "She's not afraid to tell them when there's a time they should be making some improvements."
As the leading voice of her industry, Malcolm has had to find new ways to get her message out to the industry. She has been a guest on industry podcasts and has penned articles on ag lending topics (some for this publication) with colleague and friend John Blanchfield, who for 25 years directed ag policy at the ABA and now operates an ag-focused education consultancy for community banks. 
"I have been fortunate to have visited Heather in Montana when she was interacting with her customers," Blanchfield said. "She clearly demonstrates the traits that are valuable in a community banker…financial knowledge, interest in her customer's business, knowledge of their farming and ranching practices, and most importantly, empathy."
On opening day of the ABA's 2019 Agricultural and Rural Lenders Conference, held in Dallas, Malcolm encouraged bankers to improve their borrower's business IQ. Offering education to producers who can benefit from advances in production or marketing or management strategies has become something of a movement. "We need to provide opportunities for our borrowers to be the most successful that they can be, and we need to educate our ag lenders in order to do that," she said.
At the $157 million bank, Malcolm chairs the ag lending committee, where lenders and loan assistance professionals meet monthly to discuss the condition of their borrowers' businesses and get updates on commodity prices, trade or other factors that affect their customers. This committee stays closely linked to the loan committee, and communication between the two is critical, Malcolm said. The pandemic "will affect commodity prices, which in turn will increase the amount of Farm Service Agency guarantees and direct loans," she predicted.
Malcolm, who started her career as a lender with the FSA, said helping borrowers is especially important now. She's been at Bank of the Rockies for 15 of its 137 years. A bank with such longevity has seen its customers through plenty of ups and downs, she said. "It's tough right now. We are having another bad year across the board. There isn't a bright spot in ag commodities."
As ominous as that sounds, Malcolm isn't without hope. "People involved in agriculture are resilient," she said. "Commodity prices will come back again."
Until they do, Malcolm will be "hands on," advocating for farm customers and mentoring agriculture's next generation. As a young rancher herself, she knows the challenges that lie ahead for them