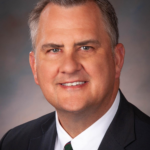 Chris Hove, president and CEO of Nebraska Bank of Commerce in Lincoln, has been elected chair of the Nebraska Bankers Association. He succeeds Alan Emshoff, president and CEO of Generations Bank, Exeter. Kirk Riley, president, CEO and chair of Waypoint Bank, Cozad, was named chair-elect.
Hove began his career in banking more than 35 years ago at the Minden Exchange Bank & Trust Co., Minden. From 1983-1992, he served in the United States Navy as a Flight Officer. Upon leaving active duty, Hove worked in compliance, consumer and commercial banking at numerous Nebraska-chartered banks including First National Bank of Omaha, Platte Valley State Bank, National Bank of Commerce and West Gate Bank. 
In July 2010 Hove joined Nebraska Bank of Commerce as executive vice president and senior loan officer. In 2011, Hove was promoted to his current role as president & CEO.
Hove has a bachelor's degree in business administration from the University of Nebraska – Lincoln and an MBA from the University of San Diego. He graduated from the Graduate School of Banking at University of Wisconsin-Madison in 2000.
Hove serves on the University of Nebraska Foundation Trustee Finance Committee and as the treasurer of the Lincoln Downtown Rotary Club 14 Foundation. He has also served as chair of several organizations, including the Lincoln/Lancaster County Planning Commission; Lincoln Airport Authority; Cornhusker Council, Boy Scouts of America; and the Foundation for Lincoln Public Schools.