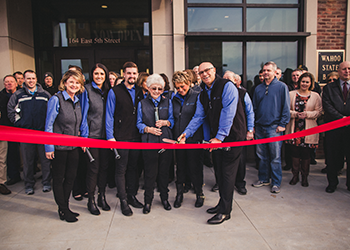 Nebraska banker Greg Hohl was at an out-of-state meeting when he received a text message from his sister that there just might be a fire at their family-owned Wahoo State Bank. 
Cindy Hohl, executive vice president of the $92 million bank, had been sitting at her desk when someone reported smelling smoke. The bank's loan officer went up to the roof and spied a smoldering where a halogen light — left behind by a worker who'd installed Christmas lights the day before — had fallen over.
As Greg Hohl, the bank's president and CEO, absorbed the implications from far away, staff was evacuated to a gift shop across the street. By noon, leadership was following the bank's emergency plan, with calls to the core processor and a disaster recovery company that also manages the bank's IT network.
"The plan you never think you're ever going to use…" said Cindy Hohl, her thoughts drifting back in time. "It was a pretty sad day." 
Greg Hohl tracked the fire via news photos posted on the internet and by the time he returned to town, it was after 7 p.m., and the building had sustained too much damage to save. "It was one of the most difficult days I've ever had," he said. "It was surreal, almost, to see it in that state."
At first the damage to the more than 130-year-old building seemed relatively minor, but the fire had spread beneath a membrane on the roof. The heat of the blaze made it unsafe for the firefighters from five departments to go inside.
"It didn't burn to the ground or anything, but the roof collapsed and it was just saturated with smoke and water," Greg Hohl said.
The Wahoo State Bank is rich with family history. The Hohls are the fourth generation to own the bank their great-grandfather, John G. Hohl, started in 1932. It survived the Great Depression, the Great Recession and all the trials in between. But the worst befell it on account of a lightbulb.
Set in an agricultural community, Wahoo State Bank primarily serves those who live and work in a 10-mile radius, though the town is a bedroom community for Lincoln and Omaha, each roughly 25 to 35 miles away in different directions.
As the Hohls recollected their worst day, which occurred more than three years ago, brother and sister were eager to also share what went right. 
The bank opened in a temporary space and began processing customer transactions within 24 hours. Internet banking and debit cards were delayed until later because of a software issue. The bank was able to recover certain assets from inside the damaged structure, including its servers and safe deposit boxes. 
When they began to plan for the future, they considered moving to a new location and the many advantages to building on a bare piece of ground. Yet, the sense of history and the idea of leaving a hole in downtown Wahoo influenced their decision to stay.
"Ultimately, we decided to stay at our historic location downtown," Greg Hohl said. "But it did cost us a lot more and we had a lot more challenges with the tight location."
The new bank, which opened in February 2019, has much more space, climate control and better security, Cindy Hohl said. The bank operates a drive-thru branch a few blocks away.
"We were able to make those decisions since we did have to rebuild," she said. "It's a bank built of steel. The [damaged] bank was old. This bank is cement and steel and lots of windows."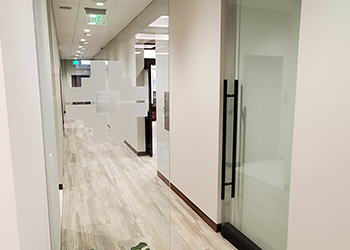 Those windows include glass doors inside that are fire-rated and held open by magnets. The building is designed so that the first and second floors are open to each other. The glass doors can be closed to separate the spaces. 
A modern fire suppression system was also worth the investment, Greg Hohl said. "It's for peace of mind, and I think employees having that comfort level, feeling safe, I think that's a biggie." 
Lessons learned or affirmed include having a solid, tested disaster plan.
"The only advice I would (offer) is review your plan, test your plan," Cindy Hohl said. "That was key for us, having up-to-date directories of all our vendors, phone numbers, all of those things." 
Working with businesses they knew and trusted, including their insurance company, network and core processor, made recovery easier. 
Now a veteran of calamity, Greg Hohl offers advice: "The first thing is, it can happen to you. The second thing is, review your insurance coverage. To have an updated, current, well-thought-out insurance coverage and plan is really important."