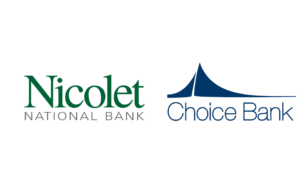 Wisconsin's Nicolet Bankshares is solidifying its presence in the Oshkosh market by acquisition of Choice Bank for $72.4 million.
The $441 million Choice Bank has two branches in Oshkosh. Based on the financial results as of March 31, the combined company, based in Green Bay, would have assets of $3.5 billion, deposits of $2.8 billion and loans of $2.5 billion. 
"We have followed Choice closely since management and the Board formed the bank in 2006 and admire what they have built in greater Oshkosh," said Mike Daniels, president and CEO of Nicolet National Bank. "Choice represents the perfect example of a franchise we look to partner with – a local community bank that has maintained a deep longstanding relationship with their customers and shareholders."
After the merger closes in the fourth quarter, Choice President/CEO Scott Sitter will join the management team of Nicolet and will be the senior vice president and commercial banking manager of Oshkosh/Fox Valley. 
"Banking is ever-evolving.  In order to best serve our customers, we needed a partner to bring additional resources.  Nicolet is a perfect fit," Sitter said.
Most recently, Nicolet bought First Menasha Bancshares, Inc., Neenah, Wis., in 2017.
Bryan Cave Leighton Paisner LLP served as legal counsel to Nicolet in this transaction. Stephens Inc. served as financial advisor and provided a fairness opinion to Choice, and Reinhart Boerner Van Deuren s.c. served as Choice's legal counsel.