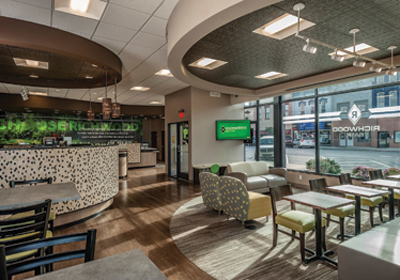 The creativity that helped Richwood Bank launch a marketing consultancy has also helped the bank increase its lobby traffic and support its local economy.
In 2015, when Richwood Bank decided to update its lobby, it needed to respond to two consecutive years of decline in lobby traffic. Bank CEO Chad Hoffman wanted to create a fresh experience in order to turn that decline around. One idea was to create a coffee bar in the bank lobby. Regulations dictated the bank would either need to give the coffee away or lease the space to a third party. Neither option really appealed.
"We decided to get the community involved and have a purpose," said Heather Wirtz, chief branding officer. The solution was to invite people, customers and non-customers alike, to come into the bank, and for a $10 donation to a select group of nonprofits the bank supports, they receive a card worth three free beverages of their choice. In 2018, the bank raised $63,700.
The coffee bars (Richwood now has three of them in various branches with a fourth on the way) have become a destination. The nonprofits that benefit drive traffic too.
Since opening Richwood Coffee, the bank has seen a 15 percent increase in teller traffic.
The bank adjusted its hours to accommodate the coffee crowd, opening at 7 a.m. That hour began with a skeleton crew, but they now have that hour fully staffed. "We have found people enjoy banking between 7 and 8 a.m.," Wirtz said.
Like other coffee shops, the bank's coffee bar offers puzzles and board games. Many people come in, open their laptops and stay for awhile, Wirtz said. And some of its branches have pinball machines and have become an after-school hangout for kids, who Wirtz described as "lively."  The kids are well-behaved, she said, and the bank is a "wonderful, nice, safe place to be."