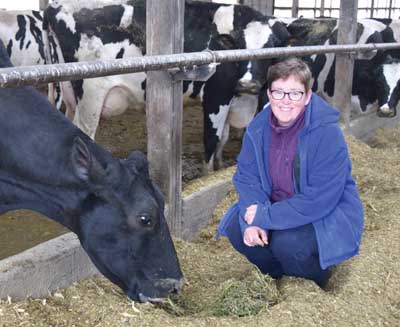 Martin County, Minn., used to be all dairy 50 years ago. Now, with more than 150 hog farms, the county bills itself as Bacon Capital USA. Today, the county has three dairy farms, including that of Lori and Bob Calkins. In addition to dairy farming, Lori Calkins is a large-animal veterinarian who speaks of changes in dairy farming that have helped the industry become so much more efficient: Genomic testing and its impact on breeding, precisely measured feed, and more comfortable facilities for the cows. All these factors have helped increase average milk production by 890 pounds per cow annually in the last five years. Amazing, except efficiencies leading to overproduction have pressured commodity prices and become a significant factor in the dairy industry's latest downturn.
Price has been the kicker, said Darla Sikora, senior vice president and head of ag banking at Citizens State Bank of Loyal, Wis. In late 2014, a year that brought with it a high of $27.33 per hundredweight (cwt) for dairy farmers, the bottom began to fall out of all milk products. Sikora called 2014 a record-breaking year. "Then we get 2015—kind of a kick in the teeth. Then the price went down even more in 2016; 2017 lower; 2018, it hit the wall," she said.
As the $208 million in asset central Wisconsin bank began to gather balance sheet data this January, the bank lowered cattle values. "We didn't have to do it immediately, but now since [the dairy market is] down and staying down, we have to," Sikora said. Dairy cattle are worth less, and "the hit that most people are taking in net worth adds insult to injury," she said.
Three and four years ago, the Calkins had to pay income tax. "In the last few years, we got a refund," she said. "Farmers never get refunds."
According to a United States Department of Agriculture Dairy Outlook, issued in February, the price for a dairy cow averaged $1,358 in 2018, the lowest price since 2010. The report also said dairy cow slaughter for the first 11 months of 2018 was 6 percent above its 2017 level.
At one time, Clark County, where Citizens State Bank is headquartered, was the only county in Wisconsin that had more than 1,000 dairy farms. That's no longer true, with farmers "leaving in droves" as the industry consolidates, Sikora said. "It happened years ago with hogs and in crops. We were always hoping it wouldn't happen in dairy…"
In the last five years, while the industry has gained 142,000 cattle, it has lost 7,341 dairy farms (about 16.4 percent) nationally.
Tallying the impact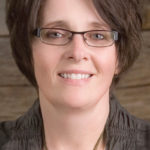 The Wisconsin Department of Agriculture reports the state lost 638 farms in 2018; that's nearly two dairy farms per day. That's a bad deal for rural economies driven by ag. "It is certainly a negative on the whole landscape in rural Wisconsin," Sikora said. "So many empty barns now."
While many of the cows are sold, at a loss, to another dairy farmer in increasing industry consolidation, the impact on the local economies can be staggering. Former dairy farmers have taken jobs in towns, meaning their farms no longer support implement dealers, feed mills, veterinarians or other dairy-supportive businesses. There are "far-reaching effects," Sikora said. "I don't think the average consumer has any idea."
Lucas Sjostrom, executive director of Minnesota Milk Producers Association and a dairy farmer, said estimates on the local impact are "somewhere between $17,000 and $25,000 per cow. Our industry in Minnesota is $9 billion. That's often hard to believe, but my own farm [of 185 cows] had $1.1 million in expenses in 2018."
The loss of a 90-cow farm means about a half-a-million dollars will vanish from the local economy, Sjostrom said.
All dried up?
Calkins believes part of the downturn can also be attributed to a "cheap food mentality" among consumers and the fact that diets are changing.
, Fairmont president of the $374 million Profinium Bank headquartered in Truman, Minn., and Calkin's banker, said there are a number of reasons for the dairy farming exodus. "The profitability has not been there. The operators, the farmers who were doing it, as they got older, they didn't have the next generation to move the operation to," he said. And in dairy farming, "facilities need to be upgraded. [Farmers] had to make the decision to upgrade the operation or exit it. And with limited profitability or no successor…I think a lot of operators decided to just discontinue at that point."
The on-demand lifestyle could be a factor. Cows need to be milked 365 days a year. "On some other types of livestock operations you do the chores, but it's not as much on a Sunday as a dairy operation is," Kopischke said.
And while many dairy farmers are near retirement age, Sikora said, given the work required to run dairy, they "may as well retire now."
Add to this the popularity of milk alternatives. "Things that weren't even in the refrigerator section of grocery stores 25 years ago" are a big part of consumers' diets now, Kopischke said.
The sales of fluid milk began its downward spiral in 2010. But Mark Stephenson, director of dairy policy analysis at the University of Wisconsin-Madison, said plant-based milk alternatives don't fully explain the collapse of dairy. Shifting tastes aside, "we are still consuming more total milk per capita, but it is in other products, like cheese," Stephenson said.  
Sikora agrees the domestic market is only "part of the story. If 17 percent was exported, we'd be okay," she said.
The export markets for dairy had been strong until August 2018 brought with it tariffs on all dairy to China and all cheese exported to Mexico. As a result, November exports were down 14 percent on a skim-solids basis from the prior year. In the first seven months of 2018, exports as a percent of milk solids produced was 16.4 percent. In December 2018, it was 12.7 percent.
New Zealand and the European Union usually trade spots as the top two exporters of dairy, Stephenson said. But milk production in New Zealand has declined due to drought, and production in the EU has shrunk for reasons similar to those experienced in the United States. "If we can settle some of our trade disputes with China and Mexico, I believe we could hit those targets again," Stephenson said.
The outlook isn't all doom and gloom. Stephenson's forecast for the all milk price is hopeful. In February, the all milk price was $16.80, so he expects that in May, the industry will be above $17. "And, yes, it is possible that we may get to $18 by October," he said.
Help for the stalwart
Should there be farmers looking to get into dairy, the 2018 Farm Bill provides help. The direct farm ownership loan limit was doubled to $600,000, which "is especially important for ag lenders that work with younger farmers to utilize Farm Service Agency Beginning Farmer Loans to purchase land and farm assets," said Kent Thiesse, senior vice president and farm management analyst at the $143 million MinnStar Bank in Lake Crystal, Minn. "Many ag lenders utilize FSA guarantees for farm operating lines of credit, so the increase in that credit availability is also very important to ag lenders and farm operators."
Farm operating loan guarantee limits were increased to $1.75 million from $700,000. However, loan availability still depends on federal funding allocations.
Sikora is glad to see the increased guaranteed lending limit. "It's certainly an assist," but it's not what's going to keep a farmer in business, she said. That all depends on farm management and cost control. "Look at farming today compared to even 20 years ago," Sikora said, it was "you work hard, you'll be fine. Today, that won't cut it."
Thiesse thinks the Dairy Margin Coverage program, which replaces the Margin Protection Program, can only be to farmers' benefit. The USDA said DMC sign-ups will begin June 17 with payments scheduled for after July 8. Payments will be made retroactively to January 1. "I definitely think the DMC program will be a big help for small to medium-sized dairy operations, under 250 cows, as well as providing some much needed help to dairy operations of 250 to 1,000 cows," Thiesse said. "Hopefully, it is not coming too late for some operations."
Based on January 2019 numbers, at the $9.50 per cwt coverage level, the DMC payment rate was $1.51 per cwt. At maximum production, this means the January DMC payment would be $1,887.50. "The premium for the $9.50 coverage on 5 million pounds at $0.15 per cwt would be $1,650 before premium discounts. So the January payment amount would more than cover the DMC premium for the entire year," Thiesse explained. "I really can't see any reason why a dairy producer would not sign up for this program on Tier One at the $9.50 coverage level, especially given the January data."
Survival for these farms isn't dependent on herd size but on management and production by the farmers. In her more than 30 years of farming, Calkins has seen the cyclical nature of the industry. "Every two to three years, there's an up cycle" where farmers get their heads above water again, she said. In the 1990s, many farmers chose to expand. "We'd watch people go bankrupt in two years," because they didn't have enough capital to get through the downturns. In the last three years, farmers have seen prices drop to $9 to $10 per hundredweight for milk a few times. But "expenses are so much higher, $14 to $15 per cwt is barely enough to keep alive."
"You can't control pricing, but the ability to efficiently and effectively produce milk; these guys and gals have to be at the top of their game to survive," Sikora said. "Those with little debt are weathering this storm much better."
"Every dollar has to count, every expenditure has to have a return," said Dean Strauss, who farms with Majestic Crossing Dairy, a partnership of four farms in Sheboygan Falls, Wis. "We're trying to basically clean up our bottom line. Sometimes you find things you should have done before."
And farmers need to toot their own horn on the progress they've made with efficiencies, especially as it relates to the bottom line, said Mark Binversie, a former dairy farmer who is president of Investors Community Bank, a $1.5 billion bank in Manitowoc, Wis., where Strauss banks. He is trying to get the word out that farmers need to help him present their case as he goes before the loan committee. "When you're applying for loans this year, sit down, focus in on your farm, and write out what you've done this year for cost cutting. You may have two to three years of losses side by side, and I'm sure you've done some cost cutting, but I can't pull that out" of the spreadsheets, he said. "Help me tell your story by pointing out the factors…so I can elaborate in detail and give you full credibility to the approval process."