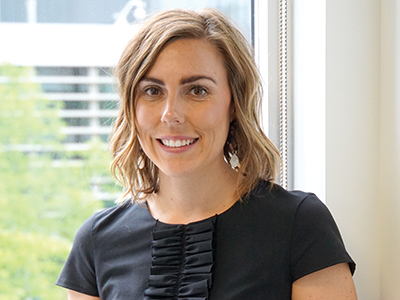 Editor's Note: Leann Stessman, 35, is the Minneapolis-based chief operating officer of Park State Bank, Duluth, Minn. Stessman, a 2016 Outstanding Women in Banking honoree, is charged with overseeing daily operations of the rapidly growing Park State Bank along with the integration processes that follow an acquisition. BankBeat editor Jackie Hilgert caught up with Stessman recently to learn more about the bank's recent growth.
Q: You call your approach to service "ultra touch." Please explain.
Leann Stessman: The team is very focused on making things as easy as possible for clients. If they say, "I'm available on Thursday between 2:00 and 2:30," then we will be there at 2:00. Our clients have all of our cell phone numbers. They text at all hours of the day. I even met someone in their kid's school parking lot once to get a signature. So it's really focusing on the ultra touch and that's what truly makes us stand out because people need that convenience. They need it to be like Amazon Prime where we just show up.
Q: Has Amazon done this, made it so every single need is paramount?
L.S.: Yes. I expect to have things in the palm of my hands or on my doorstep.
Q: I imagine some bankers might be unwilling to do this. 
L.S.: I would agree with that. While many talk about it, it is a point of distinction for Park State Bank.
Q: Doesn't that put a burden on you? Work-life balance and all that jazz…
L.S.: No, because it's a priority. It's worth it. That's what makes us stand apart. We get that comment all the time. I had a customer who said: "The only reason I'm switching to you guys is I called my primary bank and they told me it would be the end of next week until a simple account was open."
I don't even have time to go to the bank. It's the last thing I would want to do on my lunch break. So it really is focusing on going the extra mile because otherwise there are too many banks just right on Nicollet Mall or in Duluth that are competitors. We really have to focus on the client experience to set ourselves apart.
I think people still have the perception that banking hours are 8:00 to 5:00. That's just not a reality anymore.
Q: After the acquisition of Pioneer National, did you get pushback in the Duluth market on this "you've got to be available 24/7" approach? 
L.S.: I don't think so. Duluth really has that small town feel where you're running into your clients all the time. I think it almost makes that component easier than in the Twin Cities. It's more like "these are my neighbors." The commercial bankers there are very focused. They were very high touch with their customers already and they wanted it to continue, to keep their relationships as positive as possible. 
Q: So you were culturally aligned from the start? 
L.S.: Very much so. I hate to say that we were fortunate that we didn't have any issues because that would be impossible for two organizations to merge without challenges. However, I do think we're extremely fortunate with how much our cultures did align. Given our growth, we didn't have to lay off anyone. We haven't had anyone leave the organization as a direct result of the merger. So I think that says a lot about the two cultures coming together. 
Q: How did you approach integration once the deal was sealed? 
L.S.: David [Saber] and I went up there to meet with the management and staff of Pioneer two to three months prior to finalization of the merger. It was a benefit to start that relationship pre-merger. We went there a lot. The biggest thing is you have to build a relationship. Before the merger even took place, I knew people's spouses names, whether they had kids or a dog, all of those things. We wouldn't be where we're at today if we didn't have an opportunity to build those relationships. 
I know some situations are different that you maybe don't have that time to build those relationships. But I would say if you can't do it pre-merger, do it as soon as you can. Because they're scared. They don't know if they are going to lose their jobs or what's going to change. Are their benefits changing? Is their PTO going to be affected? All of these things are going through their minds; it's so much emotion going on that it's important you build those relationships. 
Also, we closed the transaction on a Friday and immediately did our core conversion on the weekend, so we had a lot of time together right before the merger preparing for the core conversion. The team was awesome. Everyone collaborated well across the bank and worked extremely hard. I am especially proud of the operations team for managing through with minimal disruption for our valued clients.
Q: What about the customers. What fears did they have?
L.S.: Our commercial bankers did an amazing job, calling them and being proactive. I met with some of the customers in person from the treasury management standpoint to say, "In fact, we're upgrading some of the technologies that you've had." In this particular acquisition, we were able to provide the customers with more resources than they had previously. So in that regard it was very helpful. 
I personally went out and I helped set everyone up with their treasury management products. 
Q: Park Financial is committed to continued growth. How does that inform your day to day?
L.S.: I continue to look at the really big picture. For example, every contract I need to sign forces me to pause and consider not only if it will work today but if it will work in 12 or 24 or 36 months, and is it scalable? Whether because of growth or just how fast technology is changing, any contract I'm signing is for a short term; I am not going to sign a 10-year contract for debit cards because in a few short years, how we use cards may be different or it will be so limited because everything's going to the phone.
The great thing with the holding company investment in the Mesaba deal is throwing ideas off of its management team. I have talked through different contracts or about different companies with them and that's been a huge benefit to have them as a resource.