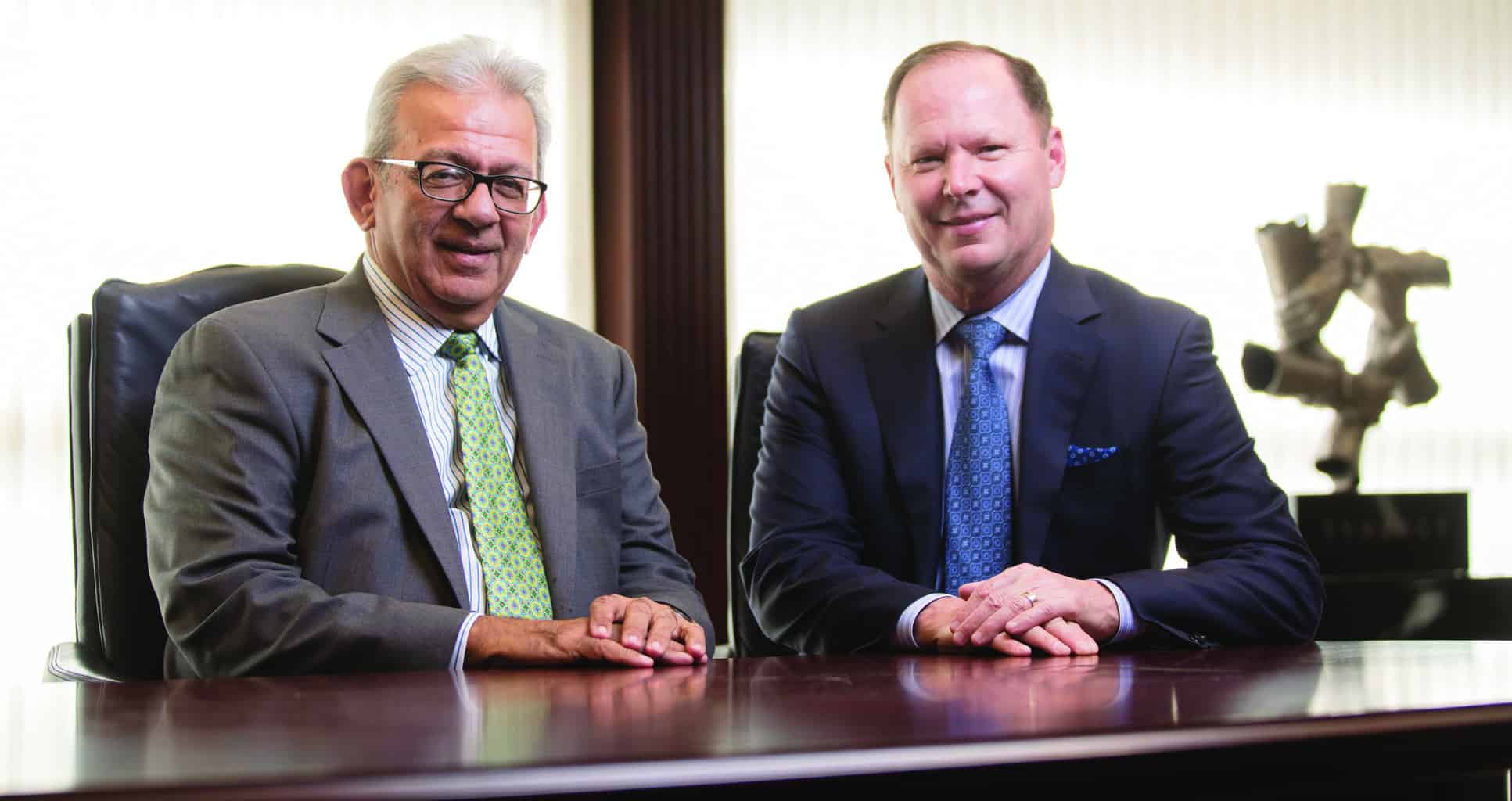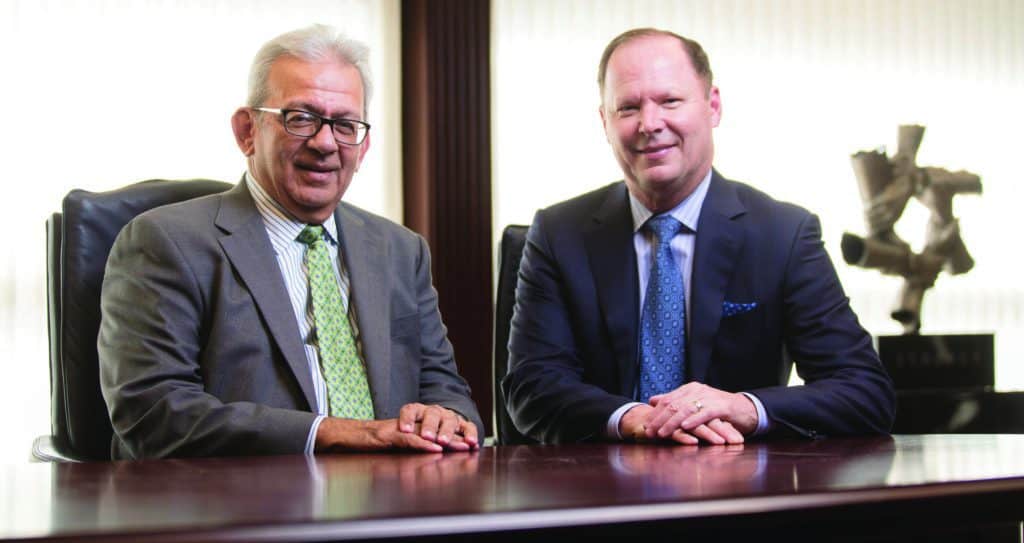 Within months of taking the helm at Des Moines, Iowa-based Bankers Trust in 2008, President and CEO Suku Radia made public an ambitious goal for the $2.7 billion bank: He wanted to double the bank's size by the time his 10-year contract came to an end. Now, with Radia set to retire at the end of this month and bank president Don Coffin preparing to add CEO to his title, a similar pronouncement tied to growth should not be expected.
"I don't want to hang a number on it," Coffin said of his intention to keep to the course Radia has charted — organic growth built on sustainable core earnings. Given that Coffin has been part of Radia's leadership team since the beginning, and the bank is projecting year-end assets of $4.5 billion and net earnings of $47.4 million, the imminent transition at the top at Bankers Trust, the first-ever promotion to the top to come from within the bank, appears to be a tacit endorsement of Radia's vision.
Radia came to Bankers Trust from Meredith Corporation early in 2008, where he'd been CFO since 2000; prior to that, Radia had been a managing partner for KPMG. Radia was named CEO of Bankers Trust when J. Michael Earley retired at the end of 2008. By that time, Radia had already recruited Coffin to come in as senior vice president and chief lending officer. Coffin is an industry veteran who was the Des Moines-based managing director for national commercial banking at PrivateBank and Trust Co., of Chicago. Coffin also had managed lending operations in the Des Moines, Omaha and Denver markets while at Chicago's LaSalle Bank. And, he'd been executive vice president of Mercantile Bank of Iowa. "I think I had proven my ability to lead on the lending side of the bank," recalled Coffin, who earned his Bachelor of Arts degree in financial management at the University of Northern Iowa in Cedar Falls.
Coffin had little concern about coming to work for a CEO with no experience leading a bank. "I was able to work the department like I thought it should be done and just report to him," Coffin said. "He was in agreement with most of it."
The Great Recession introduced challenges to Radia's new position and tested his commitment to avoid layoffs while maintaining profitability. "Nobody saw the recession coming the way it did," Radia said.
Radia and Coffin embarked on what Coffin called "triage" on the bank's loan portfolio. "People were saying 'let's get personal guarantees on every loan,'" recalled Radia. "Well, if 90 percent of a person's net worth is tied into the company, and the company is going south, how good is that guarantee?" The bank ended up charging off more than $104 million in loans his first two years, Radia said.
Bankers Trust emerged from the recession on solid footing. In 2008, its net earnings were $11.4 million and it employed 420 people at 13 branches, including one office in Phoenix. As Radia concludes his tenth and final year and the bank marks its centennial, earnings have quadrupled and the bank employs 585 people at 17 branches. In that time, the bank has made no acquisitions. Both men agree that the bank's success is the result of serving customers better than its competitors. "We've been growing at about $300 million per year," Coffin said. "That's roughly the size of a small bank."
While neither men are keen on Bankers Trust's role as a future acquirer of banks, their approach to growing the business organically diverges in how each views the leader's role.
Radia has long been the face of Bankers Trust, out in the community, a master at networking and rallying community leaders to improve Des Moines. As a result of his commitment to community service, he's been voted the Most Influential Business Leader in greater Des Moines by the readers of Business Record magazine for the past five years. In 2017, he chaired the initiative to bring the Solheim Cup to Des Moines and worked with the Ladies Professional Golf Association to ensure a significant portion of the profits from that event were directed to charities that benefited Iowa's women and children.
"Part of the job of a community banker is to make opportunities," Radia said of his visibility in the community. His activities outside the bank have been good for business, leading to introductions and referrals. "You reach a point that the reputation carries itself and people want to do business with you."
Under Radia's leadership, Bankers Trust has invested more than $1 million annually into community giving initiatives; its employees collectively donate 17,000 hours of their time annually to volunteerism. The bank also has a firm commitment to diversity; one of every five employees is a racial or ethnic minority. Coffin says the bank's commitment to community outreach and diversity is unwavering.
Radia considers Coffin to be an exceptionally skilled lender. "He's a good coach; he has the ability to retain good people; he's ready," Radia said of his successor. Six months ago, Coffin hired Mike Wilson to assume responsibility for the bank's $3.2 billion loan portfolio, which is composed of 50 percent commercial real estate, 40 percent commercial and industrial, and 10 percent consumer. Wilson brings more than 20 years of lending experience to the task, working formerly at MetLife and Wells Fargo. Will this free Coffin up enough to follow Radia's example and raise his visibility outside of the bank?
"Suku's a tough act to follow," Coffin admitted.
"The 'C' in CEO stands for culture," Radia said. "He and I have talked about what it means."
"I don't want a culture change," Coffin said. "We have a lot of strengths in the bank, not the least of which is our ability to turn a commercial credit."
Coffin says he believes the culture piece comes, in part, through execution and delivering a quality customer experience. Defining that experience throughout the organization and training employees in how to address all of its manifestations will be an important part of his leadership focus, Coffin says. As far as the bank's projected visibility outside the bank, Coffin said he expects more people from executive leadership to elevate their profiles alongside his. It will take a team, in other words, to fill the large imprint Radia is vacating upon his retirement.
It's not as if Radia plans to disappear, however. Three Iowa universities have solicited him to teach in their graduate business programs. He hasn't yet decided which opportunity he'll accept but he knows he's only interested in teaching during the fall term. He's got his eyes on Palm Springs as a wintertime home.
As the 57-year-old Coffin prepares to take over from his friend — to whom he was first introduced 30 years ago when he received one of Radia's infamous handwritten notes of congratulations for a recent promotion — it's not necessarily goodbye. "I have his phone number," Coffin laughed.