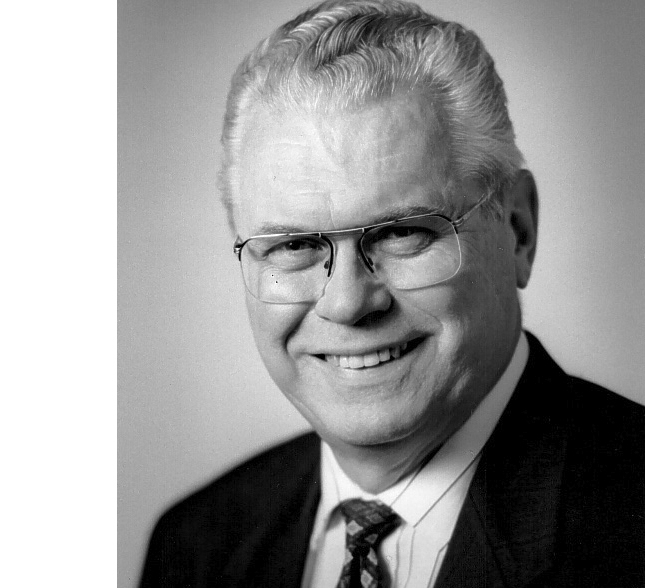 I had the good fortune of working for Truman Jeffers for two of the 25 years he headed the Minnesota Bankers Association. I am saddened to learn of his death at age 85 on Dec. 20, but pleased to reflect on the impact he made on me personally as one of my first bosses and mentors.
Truman, or "Jeff" as many of us used to call him in the late 1980s, was MBA's 14th and longest-serving executive leader since the organization's founding in 1889. He actually began his service to the MBA on March 1, 1961 (two and a half weeks before I was born) as "publicity director," the same job I held at MBA. I used to joke: "Jeff, you've been at MBA longer than I've been alive," which really seemed like something to an aspiring professional communicator a decade prior to the turn of the millennium.
I had written about the MBA, having been a reporter for this magazine's forerunner, Commercial West, in the mid-1980s. I knew of a 1970s MBA program called BAAP — Bankers Area-Wide Advertising Program — which aired television commercials promoting the benefits of a "full service bank." I had heard about a 1986 startup bond and D&O insurance provider called BancInsure. And, I recalled an ambitious program launched in 1987 called the Minnesota Bankers Enterprise Network, in which bankers worked together to promote economic development in small towns all over the state. Truman Jeffers was behind all these efforts. I was impressed so I applied for a job at the MBA when an opening came up in 1989.
I remember Jeff interviewing me at the Minneapolis Athletic Club, where he held so many meetings. As we talked, it became clear to me that he held the communications role in high regard. I was, therefore, honored that he ultimately trusted me to carry out the association's communications responsibilities, both with the members and with the general public. Jeff hired me over a handshake and a really tasty bacon cheeseburger.
In 1988, Jeff had partnered with a man named T. Harry Gatton to write a commemorative book on the 100th anniversary of the association. MBA printed several hundred copies of the book and gave one to every member, but many books remained. I remember my first day on the job, a year after the centennial celebration. The MBA was located in the heart of downtown Minneapolis, and the offices included a large production area that looked like a warehouse. Jeff and I stopped there for a moment as he showed me around. Right in front of us was a pallet of the commemorative books, neatly stacked. Jeff put his arm around me and said: "Tom, one of your first responsibilities is going to be to figure out what to do with these books." As I recall, we partnered with National City Bank, whose president was MBA president around that time, to distribute the books to schools and libraries around the state.
Jeff gave me many other responsibilities, such as setting up a media tour, where we flew around the state meeting with newspaper editorial boards to articulate the strength of the industry, a message that needed to get out at the end of a long and grueling ag crisis. Jeff also gave me free reign to develop videos and printed material articulating messages of economic vitality to communities across the state. And Jeff gave me the opportunity to meet and interview some of the industry giants of the day, people like Bill Seidman, Robert Clarke, Bert Ely and Dick Kovacevich. Just as important, Truman Jeffers gave me the opportunity to meet so many bankers – people who served in MBA leadership positions and on its numerous committees.
Jeff was a leading voice for the industry, and I remember many radio and TV interviews he gave. He had a resounding voice, made for broadcasting, which gave his message an air of gravitas in addition to the merits of his viewpoint. In a feature about him published at the time of his June 1995 retirement, Jeff said he made more than 200 trips to Washington, D.C., on behalf of the MBA. I got to tag along on a couple of those trips and I remember being amazed at the ease with which he navigated our nation's capital, including the offices of Minnesota's senators and representatives.  
Jeff was one of the first people I knew who had a cell phone, a somewhat rare business tool in the mid-1980s. When I look back, it is amazing to me to realize he got nearly all his work done without the aid of the internet. The world wide web came on the scene in 1994, only a year prior to his retirement at age 61.
Jeff had strong opinions but he was a peacemaker. You don't last two and a half decades leading a bankers association unless you can get along with a lot of different personalities. Running any trade group is not an easy job because every member wants (and deserves) your attention and they often have disparate ideas, as any large group of people would. Ultimately, communications is about bringing people together, often for some higher purpose. Jeff showed me that at MBA, and it has affected my career to this day.