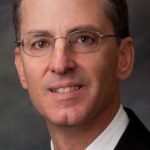 Brian Cooley was recently promoted to senior vice president, senior ag loan officer at Stockman Bank, Miles City, Mont.
In his new role, Cooley will assist all eastern Montana Stockman Bank locations with ag credit analysis and lending. He will also continue to oversee the Billings, Mont., market ag lending staff and the Worden, Mont., branch.
Cooley, who has more than 34 years of ag banking experience, has been with Stockman Bank since 2011, serving most recently as vice president, ag market manager for all Stockman Bank Billings locations. Previously, he was vice president, commercial loan officer for First Interstate Bank in Miles City.
Cooley has a bachelor's degree in business with a minor in economics from Montana State University Bozeman. He also graduated from the Northwest Ag Credit School at Washington State University in Pullman; the American Banker's Association Graduate School of Finance; and the Northwest Banking School at the University of Portland, Ore.
The $3.6 billion Stockman Bank has 34 branches in Montana.