Treynor, Iowa-based TS Bank once again partnered with the economic development organization Advance Southwest Iowa Corp., and several other companies in awarding $14,000 to local small businesses.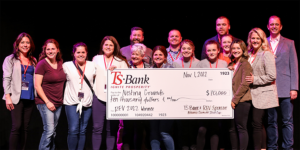 This year's allocations included $10,000 for the newly-opened coffee shop Nesting Grounds and $4,000 for the startup Fermented Felon. The awards were announced Nov. 1 at the Hoff Family Arts and Culture Center in Council Bluffs, Iowa.  
Nesting Grounds plans to use the funding for a new drive-thru and walk-up light menu boards, microphone system, patio lighting and headsets, shades and an outdoor speaker system. Additional funds will be used for below-the-counter refrigerators as the business grows. 
"These funds will not only help our business grow, but it will help our youth understand the importance of giving back to a community," said Nesting Ground owners Jodi Bose and Kimberly Schneckloth. "It gives the community hope for future growth and it shows how with support of one another, we can all do great things."
Fermented Felon makes handcrafted kombucha while using natural ingredients and helps felons "through fellowship, fortitude and friendship," the bank states. The startup will use the winnings to buy two new 1,000-liter variable volume fermenters to meet production costs and expand the business into new areas. 
Four businesses received honorable mentions, including Does and Divas, which secured a $250 cash prize and a marketing package for capturing this year's people's choice award; Urentz, Iron and Willow; Lucy Mae's Boutique; and Your Forte. 
The $365 million TS Bank started the event seven years ago to spark economic growth. Since then, more than $114,000 has been awarded to local startups.