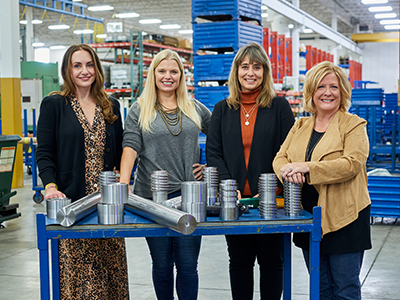 What does it mean to be family built and community strong? That's the question Aleesha Webb asked herself as she rejoined Village Bank in 2018. She'd begun her career at the Minnesota bank led by her father, but had taken time to work in other financial institutions.
As newly minted president and vice chair, she took stock of the situation and what needed to be tweaked. She knew what she wanted to do in the grand scheme of things — position the bank to carry on to the next generation of customers and employees — but needed to execute her vision for the Blaine-based bank. She wanted to narrow the bank's specialization to entrepreneurs and the relationships small business owners depend on.
A first step was gathering the right team around her. While she pitched Village as a great place to work and sought out talent from around the metro area, she also took a hard look at her immediate surroundings in the northern Twin Cities suburb. 
"If they want to be a Villager, they want to build something great in their own backyard and really give back to the community," Webb said, stressing the importance of local buy-in. "Then there's ownership and you have people who really believe in what we're doing and want to get back to what we're doing."
Assembling the crew
Webb hired Michelle Anderson from a large regional bank to lead the credit department; Beth Ecklund came from a metro bank to serve as enterprise risk officer. Megan Effertz was working for a business magazine and Webb was so impressed with her marketing acumen and strategy that she created the position of chief experience officer for her. Webb added and promoted a number of new faces, male and female, after rejoining the bank but these three women would prove to be key both in the long-term goals of Village, but also the unforeseen crisis of COVID-19. Together, the quartet are being recognized along with other bankers this month by BankBeat magazine as 2020 "Outstanding Women in Banking."
With her non-financial background, Effertz brought a new set of eyes and a portfolio of new strategies. "Aleesha told me, "We're going to change the face of community banking and really focus on the entrepreneur,' which is where my heart lives," Effertz said. As chief experience officer, she is responsible for both internal and external elements. 
"Megan's job has been to build bridges, to build brand and build culture at Village Bank," Webb said. She oversees HR but also takes a holistic view of how the customer interacts with Village, from prospect to cemented relationship. 
That also means Effertz was at the middle of the bank's scramble to prepare for shutdowns earlier this year. Fortunately, Village had recently updated its disaster response plan. Freshly back from a vacation in Mexico, Effertz pulled the document up and reviewed it with the CFO as they mustered their pandemic response. "It was probably one of the most exciting times of my career," Effertz said. Within a week they had transformed the bulk of employees to remote work, excepting frontline staff and essential workers.
"As a bank, we embrace change, and we flipped on a dime to a remote environment," Anderson said.
Ecklund helped out with the backend processes of PPP on top of her daily responsibilities. For her, the experience reinforced the bonds Villagers had already formed with each other. Growing up, Ecklund tagged along with her father when he did his banking for the family business. In that bank, both the controller and head of operations were women, inspiring the young Ecklund to pursue a similar career growing up.
Beginning as a teller, she worked her way up the ranks until she was starting a Minneapolis de novo with four others in 2005. "Building a bank from the ground up and watching it grow, that was truly the best experience of my career thus far," Ecklund said. "You come in and you build it the way you want … the right way from the get-go."
Responsible for a slew of functions, she guided the bank through the recession and growing pains before it sold in 2017. A two-year stint at a St. Paul, Minn., bank followed. Initially, Webb approached her through a mutual colleague for advice on hiring her own compliance personnel. Dissatisfied with all the other candidates compared to Ecklund's standards, Webb went back to Ecklund and successfully pitched her on becoming a Villager with the scope to mold her own compliance department.
Anderson is "one of the very rare breeds that really understand credit administration and credit from A to Z," Webb said. With economic uncertainty roiling, Anderson has been a bedrock of the bank's response: "She's not afraid to speak her mind, and she's not afraid to do the right thing by the bank as well as by the client."
Positioned for success
Now that the bank has gotten a handle on the new elements of the pandemic, attention turns back to building the team that will carry the bank forward successfully.
Webb's emphasis on relationships and the importance of finding the right people for the job has served her and the bank well since her tenure began. She's instituted a program called Insights, which helps determine personality and communication types, a move which has further helped the bank refine its personnel assignments. "You have to figure out what makes a person tick and how best to explain things so we can work better together," Anderson said.
Webb has also put a premium on identifying and mentoring the up-and-coming talent at the bank, especially its women. A first step is to model what good female leadership in banking looks like, Effertz said. "The first thing is you've got to demonstrate that it's possible. I think we're doing that here" Effertz said. "Then you need to reach out and say, not only is it possible, but it's possible for you and help identify people with the necessary talent." 
Like Ecklund seeing women in her local bank growing up, the women at the helm want to demonstrate good leadership and sound business practices for the next generation of female bankers.
It's part of what has positioned the bank so well for its future, said Marci Malzahn, a Minneapolis consultant and former banker who also sits on Village's board. "The main strength I see is the top talent that Aleesha has hired since she became president of the bank. I believe that she has built a great team and together they can accomplish much," Malzahn said. "I am confident they will be successful in the future and continue the legacy that [Webb's father, Village Chair and CEO] Don Kveton started 28 years ago in the communities they serve."
Beside the talent overhaul, Webb had also established two more concrete goals: Make the bank an SBA preferred lender — "It's a great tool that we can use to support entrepreneurs" — and set up treasury management.
"Our team killed it," Webb said. "I told our board that it was one of my proudest moments, watching the team get a plan together for everyone to work from home that needed to. It was amazing to watch our team come together for the PPP loans and execute."
Of the 600 businesses which the bank helped obtain PPP loans, about half were current Village clients; the remaining were prospects referred from other banks. Originally, the bank hadn't expected to support so many non-customers, but it opened its doors to as many as it could responsibly assist. 
"We were doing everything we could to help our community businesses and Main Street take advantage of this program," Webb said. "Watching our team in 2020, I've never, ever been professionally so proud of a group of people as I have been in 2020."
Relationships, within the bank and outside it, have always been important to Village as a community bank. With Webb's focus on the next generation — of the bank, of its employees, of its customers — Village has put its emphasis on being a cornerstone of its community for years to come.
"Don and Aleesha, they want this bank to be a legacy bank," Effertz said. "They don't have an intent to sell it. So our focus has been, what do we need to do to be able to compete, not just today, but in the future?"
The next generation of Villagers speak out on the importance of mentoring
"The culture at Village Bank is that of collaboration, teamwork and resilience. There is no goal too large for the Village Bank team to meet and/or exceed." —
Julie Brue, director of marketing & sales support
"To have strong leaders … support you, encourage you and give you the freedom to make your own decisions truly sets the standards for great role models. If an opportunity presents itself within the bank to be able to promote an employee, managers encourage and support existing employees to grow in their positions and when ready, move to their next level." — Sheryl Carlson, vice president of treasury management
I truly feel that as a Village we can lead our way to success and my team is a true example of doing so." — Jessica Harguth, director of retail banking & ERM analyst "Village Bank recognizes your strengths and leadership skills. The bank encourages you to learn new things, self-motivate and share your knowledge." — Colette Dahlin, vice president, community banker
"Village Bank thrives because we have amazing Villagers who are always ready to live/work by the Village Values: Put Relationships First, Earn it Everyday, Own It, Build Something Special and Do the Right Thing." — Nikki Walker, SBA specialist
"I have been lucky to work with knowledgeable bankers; the guidance, support and motivation they have shown me will stick with me, and hopefully I can lead and help grow others." — Ilia Kuehn, loan specialist
"As a new member to the Village beginning this year, I've guided my team through the challenges arising from COVID-19. I attribute what we've achieved in less than a year to the adaptability and strength as a team." — Kari Manuel, director of deposit operations
"We see the positive impact that can occur when you have a diverse and cohesive team with varying backgrounds. We are able to appreciate varying viewpoints with the utmost respect for each other." — Dana Kinde, senior vice president, commercial banker