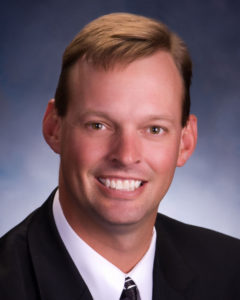 Michael Zahn has been named 2021 chair of the Indiana Bankers Association. Elected at the organization's virtual annual meeting in November, his term began Jan. 1.
The third generation of his family to lead the bank, Zahn is president and CEO of First Federal Savings Bank, Huntington. He joined in 1996 and was named president in 2005 and CEO in 2011. 
Zahn is a board member and past president of the Huntington University Foundation and a member of the board of directors of Huntington County Economic Development. Additionally, he is a past member of the board of trustees for Huntington University and past chair of the United Way of Huntington Capital Campaign, the Bowen Center, the Optimist Club, Parkview Huntington YMCA, Huntington County Junior Achievement, Huntington County Chamber of Commerce and Lime City Economic Development. 
He has a Bachelor of Arts degree from Indiana University, Bloomington, and an MBA from the University of Notre Dame, South Bend, Ind.
Other 2021 officers of the IBA board are:
First Vice Chair Garry Kleer, president and CEO of First Bank Richmond

Second Vice Chair Jamie Shinabarger, president and CEO of Springs Valley Bank & Trust Company, Jasper

Immediate Past Chair Lucas White, president of The Fountain Trust Company, Covington

Amber R. Van Til, IBA president and CEO