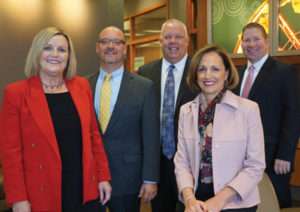 "Fierce Conversations" by Susan Scott was published in 2002 and led to the development of a host of professional development programs designed to foster accountability, courage and compassion in a workplace, with the goal of having these benefits spill over to interactions with customers.
Bank Midwest adopted the Fierce program for its staff six years ago after Mary Kay Bates, president and CEO, was certified in the program. Bates, BankBeat's 2019 Banker of the Year, views employee-customer communications as critical to the future success of the bank because people are less likely to interact face-to-face.
Roughly 90 percent of Bank Midwest employees have been trained in the seven principles that comprise Fierce, which are excerpted here:
Master the courage to interrogate reality. No plan survives its collision with reality, and reality has a habit of shifting, at work and at home. We are changing all the time. Don't forget to share this with others.

Come out from behind yourself, into the conversation, and make it real. The unreal conversation should concern us. When the conversation is real, the change occurs before the conversation is over.

Be here, prepared to be nowhere else. Speak and listen as if this is the most important conversation you will ever have with this person. It could be.

Tackle your toughest challenge today. The problem named is the problem solved. Identify and confront the obstacles in your path.

Obey your instincts. You hear messages in your head, feel them in your gut, discern them in your heart. Tune in.

Take responsibility for your emotional wake. There is no trivial comment. The conversation is the relationship.

Let silence do the heavy lifting. Insight occurs in the space between words. Memorable conversations include breathing space.
Suzi Kalsow, vice president of learning and development, helped Bates train the bank's managers in Fierce in 2012 before she was hired. She came on board in 2014. Kalsow said the goal with Fierce is to make the bank a place where, "if you have an issue with me, I can count on you telling me." It's about fostering respectful and professional direct communication, she explained. As a result, productivity and accountability have increased across the company. Even company interns receive Fierce training.
Company values are embedded in Fierce, Bates said. "It's not like leadership went through the training and now everybody is subjected to it," she said. "Everybody believes in it."