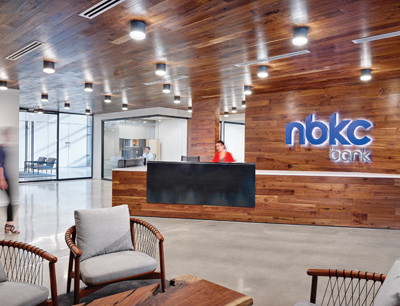 Where many banks might present themselves with a look, tone and environment that's as serious as the work they do, that's simply not nbkc bank's style. Even its name — all lowercase letters — asserts that this bank strives for a more casual image. From the open, modern architecture at its Kansas City, Mo., headquarters to its edgy marketing videos or its outside-the-box approach to developing technology, nbkc's take on how to build a successful bank is anything but traditional.
nbkc has a preference for recruiting people from outside the banking industry for its management team, and its casual internal culture helps with recruiting. That culture includes some elements more common to the tech sector, such as beer on tap and video games. Employees can compete, for example, for the top score in Centipede.
Not everybody wants to work there, or bank there.  "We want our customers to decide for themselves if we're the right fit for them," said president and CEO Brian Unruh. For those who do, Unruh said his team works well. "That authenticity, I think, comes through from the leadership throughout our organization. This is who we are. It's not a pretend thing. It's not for branding. Our culture is our brand."
This isn't to say that nbkc doesn't take banking seriously. There are high expectations for management and staff.  "We are not the bank for everybody," said Unruh. "There are still customers who like the buttoned-up, corporate… approach, and that's just not us."
A millennial bank
Started in 1999 as National Bank of Kansas City, nbkc changed its name and converted from a national charter to a state charter in 2015. Before it was a bank, it was an online mortgage company. That business was folded into the bank and it remains a significant part of the privately-held, $700 million institution.
Unruh, a co-founder, has led the bank for 11 years. The bank had been closing in on $1 billion when Unruh stepped into the top job, but then the economy turned. "I think we do have some asset growth coming in the next few years, but I think it's not been our primary motivation," he said.
The bank has ROA of 2.01 percent, ROE of 15.98 percent, and its efficiency ratio is 82.05. "When you boil down to profitability, return on both assets and equity, we do pretty well against our peers," Unruh said. "We just don't line up in all the normal measures."
nbkc, which has 330 employees, adheres to a minimalist business model and focuses on retail banking, small business banking and mortgage lending. The bank's success lies in being both high-tech and high-touch, Unruh said. With a digital business model, nbkc doesn't need to have branches in all 50 states — it operates four in Missouri and Kansas — to have a nationwide customer base.  
"We view technology as a way to enhance our human interaction," Unruh said. "We're not a bank that believes we're going to be totally digital with no human interaction, that we're going to rely totally on AI and bots."
But by mixing technology with high touch, the customer has a better experience that's also more efficient, Unruh said. Both its consumer and small business commercial lending are mobile-enabled and deposit accounts can be opened online.
But mortgages are the bank's primary focus, with $2.5 to $3 billion in annual origination. Loan originators stay with customers from point of initial contact through to closing. "We just do things differently than almost all of our competitors, from a single point of contact, which I think is very, very rare in the industry," Unruh said.
nbkc would like to bring deposit and bank lending functions in line with its mortgage business. That means a national presence, Unruh said, as well as reducing the complexities of accounts. The offerings, add-ons and number of available accounts are simple and transparent. They offer one consumer checking account and one business deposit account, not a grid of options.
"That means a high-touch, high-tech approach where the customers are, when and where they want to meet us, and how they want to meet us," Unruh said. The high-touch operating philosophy extends to the web, as well. nbkc has thousands of reviews on Zillow, for example, and despite being the CEO, Unruh answers them personally. It's worth it to know what people are saying and thinking, he said.
Form follows function
Two years ago this month, nbkc moved into a 105,000-square-foot renovated space in the Kansas City urban core. Its old headquarters was a traditional bank building; its new one is industrial and chic with an interactive teller machine just inside the door, but no staffed teller lines or drive-thru lanes as one might expect to see at a bank.
It is form that follows function for an outside-the-box banking culture. "It wasn't ever our goal to set out and say we want to be different than everybody else. I think the true awakening for our company is when we moved into our new headquarters," Unruh said.
"Even though we didn't feel like traditional bankers, we probably acted more like it in that setting," Unruh continued. "When we finally designed this space, it just kind of felt like home for our employees and kind of shed that final, maybe, albatross of the past. We got to act like who we are a little more."
That meant being more employee-centric, Unruh said, and creating a culture that made nbkc a place where people want to work, including people who might never before have envisioned themselves working for a bank.
Jen Gulvik, chief marketing officer, joined nbkc about a year ago after working in brand development in various industries. "Financial services in general is not an industry that is perceived as being one with great creative potential," Gulvik said. "A lot of people in the marketing and creative fields perceive it as where creativity goes to die."
Gulvik learned of the opportunity at nbkc through a banking friend and watched the bank's clever marketing videos (one directed to potential customers and another to potential employees), which is where she saw the potential.
"What we do is serious, but if we can portray that we don't have to take ourselves seriously all the time while we're doing serious work, that's the kind of customer profile that I want to attract out there," Unruh explained.
On the employee page of the bank's website, the bank shares peoples' hobbies instead of their credentials. "They're not just saying they want to be different and progressive and be consumer-oriented," Gulvik said. "We are really doing those things and trying to build an ecosystem of like-minded companies, brands, fintechs, people, employees that share that same vision."
Employee perks include employee-organized clubs focused on beer, wine or crafts; arcade games on every floor; and a putting green, billiards and shuffleboard all inside the building. "We have attracted a lot of non-bankers with this approach," Unruh said. "Time's only going to tell if it's the right strategy."
Chief Technology Officer Scott Ramon compares the environment at nbkc as similar to tech companies known for their work-hard, play-hard cultures. Ramon's focus is designing and building software that nbkc can use both externally and internally, as the bank identifies what could be differentiators for them. "If it's a strategic advantage for us to control the user experience, say, in some aspect of our customer journey, then instead of going to some third party and just pulling off whatever they offer to every other bank, let's build it ourselves," Ramon explained.
The innovation ethic at nbkc is appealing, Ramon added. Those innovations include the bank's fintech accelerator, called Fountain City Fintech (see related article).
"To see an employer, a bank, a traditional company going so far as to invest in not only putting together a program but also investing in the companies themselves and partnering with them to enable their success was a really big deal to me," Ramon said.
With the fintech accelerator, the bank has been able to expand its network of innovators and ideas, as well as invest in new technology that could help improve and expand bank operations. "Fountain City Fintech really exists to further the nbkc goals," said Zach Anderson Pettet, managing director of the accelerator.
nbkc's involvement with ProPair, a Silicon Valley-based firm, which preceded the in-house accelerator, was yet another example of the bank's willingness to work and invest on the cutting edge of technology and finance. ProPair helps mortgage companies make predictive decisions around how they manage their prospects, said ProPair CEO Ethan Ewing. Rather than randomly distributing 100 leads to 10 loan officers, for example, they build predictive models to precisely distribute those leads to the specific loan officers likely to have the most success with each of those matches.
The company has worked with nbkc for about a year and a half, first providing them with the service. nbkc subsequently invested in ProPair helping it grow more quickly. But the bank's first foray into fintech was with esmartloan.com, which it sold to Capital One for $145 million more than a decade ago. That technology-based approach has "been in our DNA from the very, very beginning," Unruh said.
Though historically banks and fintechs may have considered each other at odds, there's real opportunity in working together to design technology that can solve real-world pain points. "They've become a beacon for other technology firms," Ewing said. "They're building a reputation."
For nbkc overall, Unruh foresees significant asset growth, particularly over the next five years, possibly putting nbkc in the $2 billion range. The bank is structured to be a bigger bank, and it has the management and talent on board to do that, Unruh said. He thinks they'll get there by doing "the same thing we're doing exactly right now. I'll call it organic, but it's an organic/partnership approach."