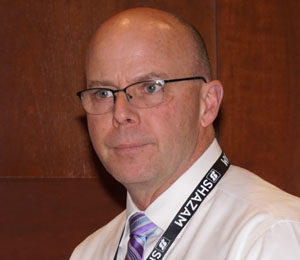 One day before Mike Burke, a robbery and crisis management consultant with Shazam, spoke to bankers in Des Moines about card skimming and card cloning, two men with handguns robbed the Maxwell State Bank, in nearby Ames. No customers were in the bank at the time of the robbery and no one was injured. By the time Burke launched into his presentation about financial crimes, the men still hadn't been apprehended. And while card skimming and card cloning aren't as trauma inducing as staring down the barrel of a gun, they are crimes on the rise in the Midwest, and they have the potential to become a huge problem for financial institutions.
"Your customers are your first line of defense," Burke said to a group of bank and credit union representatives assembled April 11 for the Shazam Forum. It's in a banker's best interests to teach customers not to do "dumb things with their card, like writing their pin on the card."
Less obvious to bankers and their customers is the precision in which criminals are using overlay devices on point-of-sale terminals or the ease in which they are breaking into fuel dispensers to skim customer card data. Keys to fuel dispensers can be bought on eBay for just a few dollars, Burke said. In 2017 in Florida, for example, law enforcement found skimming devices on 700 fuel dispensers. "Think of all the ones they didn't find."
"As long as we have magstripes on the backs of cards," said Burke, who worked in law enforcement for 30 years, mostly focused on financial crimes, "fuel dispenser skimmers will be our nemesis."
Burke said fuel dispensers are visited between 30 and 100 times per day, which translates into huge losses if a gas station owner isn't checking for skimmers multiple times per day. Banks bear the brunt of those losses.
High volume retailers, such as convenience stores, are equally attractive targets for skimmers. Burke showed video of individuals who slipped skimming devices right over point-of-sale terminals while cashiers were nearby, only slightly distracted. The devices were put in place in a few seconds.
Burke encouraged bankers to inform customers, train retailers but also to keep local law enforcement officers apprised on ways criminals are stealing customer data. Burke provides similar training to the law enforcement academy, he said, but in smaller communities, officers may not know enough about the technologies being deployed by criminals. "It's a great partnership you need," he said.
Another deterrent for skimming on fuel dispensers is to encourage gas stations to put security tape on the pump where it would break if a criminal installed a simmer.
Burke encouraged customer education to focus on two easy ways to prevent fraud. 1) Pull on the device. Skimming overlays will pull right off.  2) Look for security tape on the fuel dispenser. "If you see broken tape on the fuel dispenser," Burke said, "just pay inside."