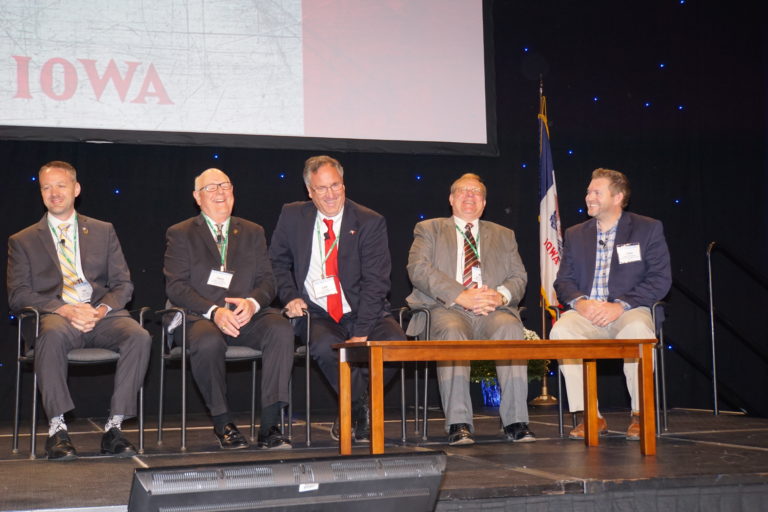 Leadership of the Iowa Legislature gathered for a panel discussion at the 133 rd annual convention of the Iowa Bankers Association. At the meeting at the Veterans Memorial Auditorium in Des Moines on Sept. 24, credit union competition dominated the conversation among five elected officials, all Republicans.
"Credit unions have options," commented Lee Hein, chairman of the House Ways and Means Committee. "They can move to a federal charter, so that makes taxing credit unions not such an obvious solution."
Dan Dawson, chairman of the Senate Commerce Committee, said the Senate has tried to take a new tact on the issue. "We tried to change the conversation away from banks versus credit unions, and make it about large banks and credit unions versus small banks and credit unions. But that approach didn't get a lot of support."
Bankers and some lawmakers are looking to build on momentum built during the 2017-18 legislative session when the Iowa Senate passed a bill to extend the state franchise tax to credit unions. The House, however, did not follow up and efforts to tax state chartered credit unions failed. By the end of the session, however, the legislature passed a law which forced one of the state's largest credit unions to change its name. Earlier this year, GreenState Credit Union of North Liberty, Iowa, changed its name from the University of Iowa Community Credit Union.
Gary Carlson, chairman of the House Commerce Committee, said bankers and credit union representatives met on the issue this summer but no solutions emerged. "If they all go to a federal charter, we do not achieve our goal of leveling the competitive playing field," he commented.
"If the goal is to level the playing field, it might be better to look at lowering taxes for banks than increasing taxes for credit unions," commented Jake Chapman, chairman of the Senate Ways and Means Committee. "There's probably more opportunity to look at the banks' tax situation. We did that in the Senate and in the House it stalled out."
Bankers expressed frustration with GreenState Credit Union, citing its June announcement that it is purchasing seven branches in Fort Dodge and Des Moines from First American Bank of Fort Dodge.
During a Q&A period, bankers noted the state credit union charter is more liberal than the federal credit union charter. In addition to the tax parity issue, bankers expressed a desire to see the state charter paired back to at least the same rules as the federal charter. One banker suggested even if a tax were imposed on Iowa-chartered credit unions, few would switch charters because they rely on the liberties offered by the state charter.
"Let's see who is going to abandon Iowa," said George Schneidermann of Frontier Bank in Rock Rapids, Iowa. He encouraged the lawmakers to tax state chartered credit unions and predicted it would spur other states to do the same. "If enough states follow," he said, "Congress might follow."