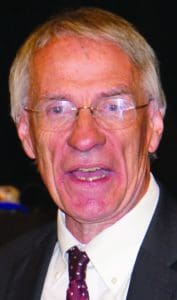 Agriculture is at a crossroads, said ag expert Dr. David Kohl, speaking in Mankato, Minn.
Nov. 2. Kohl was addressing bankers attending the 37th annual Bankers Seminar hosted by the accounting and consulting firm of Eide Bailly. Kohl addressed another Eide Bailly group the day prior in Fargo, N.D.
Kohl warned that prices for ag commodities are not returning to the levels experienced between 2006 and 2012. The United States is dealing with a surplus of ag commodities, which is keeping prices low. While productivity is up in many places around the globe, export demand is strong, particularly in light of a weakening dollar. Approximately 21 percent of U.S. ag income comes from exports, he said.
Banks that make ag loans should focus on the management at the farms they are financing, Kohl said. One professional colleague told Kohl that weather patterns are growing more extreme. Kohl said that means greater volatility in ag markets. "Pro-active managers will be okay," he said about navigating sudden changes in conditions. "The reactive farmers will struggle."
Kohl noted the United States is in its 99th month of economic growth. The longest growth cycle on record in the United States is 120 months. Kohl said prolonged periods of growth can be problematic. "When things are good for so long, people become complacent," he said, urging bankers to remain vigilant regardless of economic conditions.
Over the long term, farm operations management becomes more important, Kohl explained. John Deere has stepped up its lending to farmers, Kohl said, referring to a Wall Street Journal article. Kohl raised a concern that the tractor manufacturer is giving marginal borrowers "a reprieve." Over time, it will become evident whether the additional credit is helping a vulnerable borrower group through a tough time or simply delaying an inevitable fate. "When the bottom one-third of the industry is making money, you better watch out," Kohl warned.
During the good times, Kohl said, some farmers outgrew their management practices. Their less-rigorous practices may cause them trouble when conditions toughen up, he said.
To help bankers assess borrower strength, Kohl offered the following warning signs:
Operating expense to revenue ratio (excluding interest and depreciation) greater than 80 percent.
Debt to asset ratio of greater than 50 percent.
Working capital to expense ratio of less than 10 percent.
Accounts payable, vendor financing buildup.
Term debt to EBITDA greater than 6 to 1.
Kohl urged bankers to avoid lending to farmers who:
Are renting or leasing land and have most of their equity tied up in devaluing machinery.
Lack financial/marketing systems skills.
Operate using a Schedule F "minimize taxes" mentality.
Rusted out, worn out, or faded out assets.
High maintenance living.
A know-it-all or victim mentality.
It is important for lenders to watch borrowers' living expenses, Kohl said. It is easy for such expenses to creep up. A particular warning sign is refinancing for the purposes of maintaining a lifestyle.
Kohl offered the "six Cs of lending" that match good lenders with good borrowers. He said good borrowers generally are "conservative, courageous and consistent," while good lenders are good at "calculating, thinking critically and communicating."
Snapshot on bank deals
Through Sept. 19, there have been 175 whole bank merger and acquisition transactions in 2017, reported Don Johnson of Eide Bailly. Johnson was part of an M&A panel discussion that took place at the Eide Bailly Bankers Seminar. Johnson cited statistics from SNL Financial. Of the total deals, 156 involved banks; 19 involved thrifts. Fifty-two of the bank deals took place in the Midwest.
The average price to tangible book for banks across the country, he said, was 168.4 percent. In the Midwest, the average price to tangible book was 153.5 percent. The median price for Midwest bank deals was 20.0 times earnings.
The pace of deals in 2017 is mostly consistent with the past few years. In all of 2016, there were 220 bank deals across the country, 105 in the Midwest; in 2015, there were 260 bank deals across the country and 98 in the Midwest.