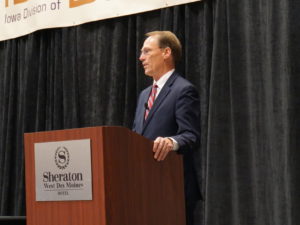 The Iowa ag economy remains strong amid prolific commodity prices, according to Iowa Superintendent of Banking Jeff Plagge. 
Plagge, who discussed the ag sector and broader banking economy April 14 during the Iowa Division of Banking's Day with the Superintendent in West Des Moines, Iowa, noted that the average per-acre farmland price in Iowa has spiked nearly 30 percent to $9,751 due to high commodity prices, favorable interest rates, and limited supply accompanied by strong demand. "I've never seen profits like we're seeing today," he said. As government payments decrease, commodity prices will be a key factor in maintaining this strong farm economy, Plagge said. 
U.S. Department of Agriculture Chief Economist Seth Meyer said in late February that strong commodity prices for soybeans, wheat, cotton and beef products will push ag exports to $183.5 billion this year, an $11.3 billion jump from 2021. Soybean prices are expected to remain historically high this year due to strong domestic demand and greater desire for renewable diesel capacity. Iowa set a state record for bushel per acre yields. 
The strong commodities market comes as the state of Iowa has recently faced a turbulent economy. The state was struck hard in 2020, both by Covid-19 in the spring and a derecho storm in August that inflicted heavy damage to much of the state's corn and soybean crops. In March 2020, the state's unemployment rate spiked to 10.5 percent, before falling back down to pre-pandemic levels. Bank deposits in Iowa grew during the pandemic as Paycheck Protection Program lending began and unemployment assistance, rental assistance and other public financing swelled bank accounts. 
As PPP dollars have dwindled, the pace of asset growth for FDIC-insured banks has fallen, both in Iowa and nationwide — 18.79 percent in the fourth quarter of 2020 to 12.08 percent for FDIC-insured banks and 14.48 percent to 8.68 percent for Iowa banks. M&A activity has quieted statewide, Plagge added. 
During his address, Plagge also touched on threats he sees from cybercrime and the potential disruptive impact of cryptocurrencies on banks. "Don't let your guard down, because the risk has probably never been higher," Plagge told bankers of the ongoing threat of cybercrime amid Russia's invasion of Ukraine and subsequent Western sanctions. On cryptocurrencies, Plagge said he's not convinced that the burgeoning industry is anything more than a "speculative investment." 
Plagge expects mobile P2P payments to continue to soar. Last year alone, Zelle's total transaction volume jumped nearly 60 percent to $490 billion. Venmo experienced a 44 percent spike to $230 billion. This year, US P2P mobile payment transactions are expected to reach $983.85 billion, a 25.3 percent year-over-year increase.