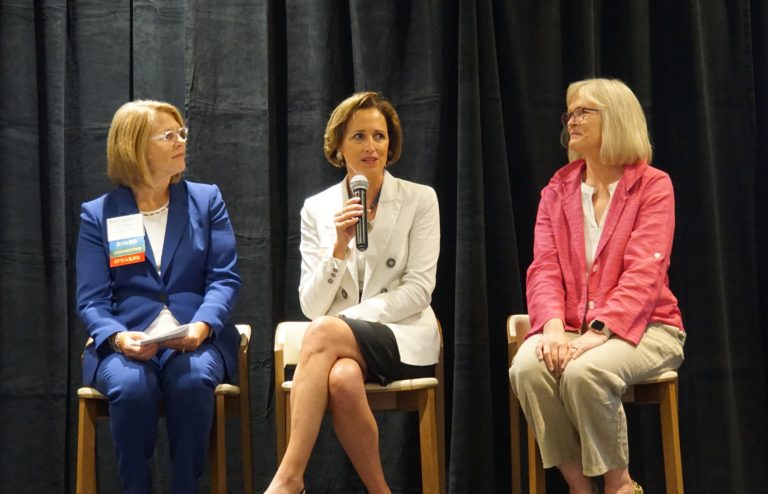 The importance of mentorship and women helping other women along in their careers was a key refrain offered by a panel of three veteran female bankers recently.
Mary Kay Bates, president and CEO of Bank Midwest, Spirit Lake, Iowa; Laurie Nordquist, lead regional president for the Upper Midwest for Wells Fargo, and Del Mari Runck, chief operating officer for Neighborhood National Bank, St. Cloud, offered insight and advice to attendees at the Women in Banking Conference hosted by the Minnesota Bankers Association.
All three said seeking help from mentors and peers throughout their careers is key to success for younger women at the beginning or middle of their careers. Building a peer network in addition to finding the right mentor is incredibly important, they said, as well as passing that assistance along to junior colleagues.
Attendees shouldn't dismiss less direct paths to career advancement, Nordquist said, noting the benefit of lateral moves on the way to upper management.
"Progress isn't always linear," Runck agreed, telling attendees to develop concrete action plans and push for one-on-one mentorship meetings.
Even setbacks can be part of seemingly roundabout development, Bates said. "I'll continue to have failures because that's life," she said. How you react to failures and what you learn from them matter far more.
Perfection can be the enemy of the good, especially early on in your career when you can waste your energy on ultimately trivial things. Both Nordquist and Bates told attendees to take time to assess the importance of tasks and projects and prioritize their efforts accordingly.
The panelists all urged attendees to balance assertiveness in meetings, negotiations and other interactions with a calm level-headedness to avoid the oft-lobbed accusation of over-aggressiveness.
If a company doesn't have women on its board or serving in upper management, potential or current female employees might need to consider whether it's a good fit for them, Bates said. "That mentality [of deciding who is fit to lead] starts at the top and you need to challenge it."
Women also frequently need to challenge other inequalities they find in the workplace, panelists said.
"You need to have courageous conversations and bring up those discrepancies," Nordquist said.
The trio noted the strides women in banking have made since they started their careers several decades ago — the increased number of women attending industry meetings or sitting on boards was cited as one encouraging sign — but told attendees to keep striving.
"There are challenges, but if you want it badly enough…you can have any seat at the table," Runck encouraged her audience.