In his first act as newly elected chairman of the Nebraska Bankers Association, Dave Dannehl, president and CEO of First State Bank of Loomis, Neb., presided over a bylaws change that extended his term by an additional year. Not only did the NBA vote to extend the terms for its executive committee from one to two years, it also voted to expand its executive committee to include the immediate past chairman plus two addition board members to be selected by the board. The vote occurred on the second day of the NBA's annual convention held May 2-4 in Omaha, Neb.
NBA members also voted to allow representatives of its board to serve two, three-year terms in succession, with the exception of the board members that represent the eight largest financial institutions in the state. The changes were unopposed by membership.
In addition to Dannehl's election to chair, the NBA elected Alan Emshoff, president and CEO of Generations Bank in Exeter, Neb., as its chairman-elect. The immediate past chair is Kristie Holoch, president and CEO of Cornerstone Bank in York, Neb. Holoch was absent from the convention due to health reasons.
Jerry A. Catlett, Bruning State Bank, Bruning, was recognized for his leadership as he completed his term on the board.
Additionally, the following bankers were elected to serve in at-large positions on the board: Stephen E. Stull, Farmers State Bank, Bridgeport ; Jason R. Smith, F&M Bank, West Point; Debbie R. Newkirk, Security National Bank of Omaha, and Lydell L. Woodbury, First Nebraska Bank, Columbus.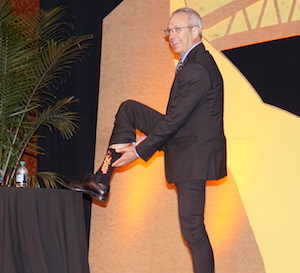 These bankers have been appointed to represent their respective institutions on the 2018-2019 NBA Board of Directors. They represent the eight largest Nebraska financial institutions, as of June 30, 2017: Nicholas W. Baxter, First National Bank of Omaha; Cory A. Bergt, Wells Fargo Bank, N.A., Lincoln; Anna Hernoud, Bank of the West, Lincoln; Christine Higgins-Wilcox, Union Bank & Trust Co., Lincoln; John F. Kotouc, American National Bank, Omaha; Brian D. Lierman, Great Western Bank, Hastings; Raymond M. McKenna, Cornerstone Bank, York, and Joseph T. Sullivan III, U.S. Bank, N.A., Omaha.
Special recognition was paid to former banker Merlyn Minderman of York, who has retired as the NBA's member relations consultant. Over the past 18 years, Minderman traveled more than 140,000 miles, making 2,800 bank calls to share information about the NBA and the association's products and services. He started his career with The First National Bank of York, now Cornerstone Bank, in 1975 and was a member of the bank's board of directors for 36 years. He has served as the NBA's member relations consultant since 2000.