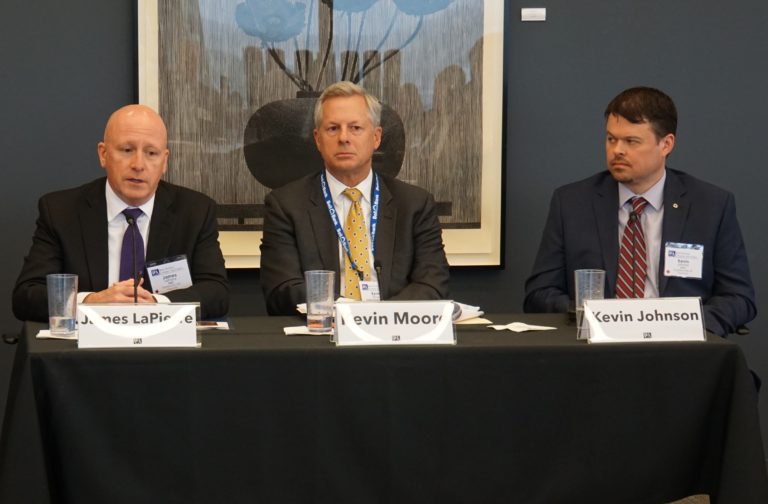 Liquidity, particularly in banks dependent upon ag loans, and security issues top the list of concerns among regulators who spoke at a recent event hosted by the Bank Holding Company Association in Kansas City, Mo.
"Loans in our banks last year in our region grew about 6 percent. I can assure you deposits did not grow 6 percent last year," commented James LaPierre, regional director FDIC, Kansas City. Adding to liquidity stress, LaPierre said, is the substantial number of depositors, particularly among farmers, who are drawing down their bank deposits. "It is the opposite of the situation we had a few years ago where banks were flush with deposits and loan demand was modest," he said.
"It all starts and stops with credit risk," said Kevin Moore, senior vice president, supervision and risk management at the Federal Reserve Bank of Kansas City. "If we weren't going nuts with the stress of the last five years with reduced farm incomes and exhausted working capital positions, now we have reduced liquidity in your base." Moore said the severe flooding has been an issue, but he complimented banker in Nebraska for doing a good job managing risk nonetheless.
Moore encouraged bankers to watch farm land values, which he said have held steady or dropped only slightly. He said given the value of many ag commodities, he said it would have been reasonable to expect the price of farm land to drop more significantly, but that hasn't happened.
In some areas, the years of depressed commodity pricing is taking a toll. The regulators said that some carry-over debt is reasonable, but that bankers need to make sound judgments on a case-by-case basis. When situations get too far out of hand, bankers should encourage the farmer to be realistic and change their work situation.
"If a farmer needs to sell a little bit of land to pay off those debts, I think that's a better conversation to have now than two years from now when you're there with the sheriff at a foreclosure sale," commented Kevin Johnson, assistant deputy comptroller, Kansas City field office of the Comptroller of the Currency. "It's hard, but it's easier to do it now than five years from now when it gets worse.
"I want to make this very clear, carry over debt does not equal classified. If it is well-structured and well-supported, it is not classified debt automatically," said Johnson, who encouraged bankers to work with troubled ag borrowers where possible.
Johnson said cybersecurity is another top regulatory concern. He said phishing attacks are up significantly, and that banks using Microsoft Office 365 seem to be particularly susceptible to phishing attacks. He also warned bankers to be on alert for security breaches that can happen when hackers attempt to gain access to bank systems through a third-party vendor.
Also, Johnson encouraged bankers to develop protocols for partnering with fintechs. He said he expects technology to become increasingly important in banking and that banks that shun technological developments will find it more difficult to compete in the long run.
In a wide-ranging, 60-minute panel discussion at the BHCA Bank Owners' Boot Camp, the regulators also talked about the steady pace of consolidation that is taking place across the industry.
Moore said that when M&A applications cross his desk, his team looks for management depth at the acquirer. He said management talent is a big factor driving many deals, particularly in rural areas.
The central part of the country is home to less M&A activity than the coasts, noted LaPierre. He said many of the buyers are serial buyers who know how to conduct deals and understand the requirements of regulators. But LaPierre said industry consolidation concerns him.
"I really worry about places like western Nebraska or western Kansas where one bank serves maybe 25, 30, 30 or 50 percent of the market. When a single charter goes away in a market like that, there's really a challenge for that local community," LaPierre sa