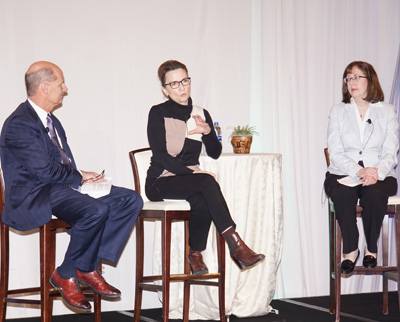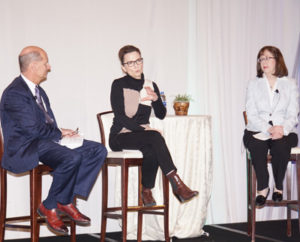 Editor's Note: Following is a compilation of comments made by FDIC Chair Jelena McWilliams at the Executives Conference hosted by the Wisconsin Bankers Association on Feb. 5. Her comments have been edited for conciseness.
Q: Tell us about the "Trust through Transparency" initiative you have launched at the FDIC.
J.M.: I joined the FDIC in June of last year and one of the first things that I did was realize that we do a lot of stuff behind closed doors. I asked if there is a reason for us not to make more information public. The only answer I got was, "Well, we've never done it like that." So, I started this Trust through Transparency website on the FDIC's portal and we're publishing more information. We're trying to make more things available to you in terms of our examination reports, statistics about how long on average it takes to get back to you, etc.
Q: You have set an aggressive goal with respect to listening to bankers. Are you on track?
J.M.: I am on a nationwide listening tour, and unlike some others who do nationwide listening tours, I'm actually going to every state. I was thinking this was going to be easy: five-year term, 50 states — 10 per year. But then there is Guam, Puerto Rico and more. Nonetheless, I'm going to every state to engage with the public and speak at industry meetings, regulator events and even speak to the consumer groups to make sure that they get the feedback that they usually don't get in Washington, D.C. I think I've been to close to 10 states now.
Q: You are a fan of regulatory relief. How do you go about reducing the number of regs at the FDIC?
J.M.: We can take a look at financial institution letters and we had about 670 on the prudential risk management side, and 160 to 180 on the consumer side. We have been able to retire more than 60 percent of those. It's not the nature of a regulatory agency to declutter. You get the myriad regulations, guidelines addressing the same thing but one is from 1994, one is from '97, one is from 2004, but the one from 2004 won't say that the other ones were rescinded. So we have made sure to keep the most recent ones and then put everything away so that your compliance people won't have to read literally everything. Plus, we're looking at other ways to simplify the compliance regime while maintaining safety, soundness and consumer protection.
Q: Cybersecurity is on everyone's mind. What does the FDIC want from community banks in terms of technology and maintaining security?
J.M.: Cybersecurity is a huge issue for an agency like us. With this Trust through Transparency initiative, we put all of our documents out there. As a result, we had hackers try to get into our system by using the names on those documents; they pretended they were our employees. It's scary for an agency like ours. Cyberattacks happen every day and then occasionally we do experience a cyber breach. I tell the examiners and our supervisors that when we regulate banks, they should be held to the same standard that we hold ourselves. We can't expect bankers to do more than we're able to do as an agency, recognizing that we have more resources in many cases than banks do. So we're taking a look at how we can make the compliance burden less while making sure that you're not the weak link in the system from breaches and cyber attacks. We're working with the FFIEC; we have a working group on cybersecurity and we're taking a look at how we can make compliance easier.
Q: Any final thoughts you want to leave with bankers?
J.M.: As you look at the FDIC, we know a lot. We have a lot of institutional knowledge. We have a ton of data. We have very brilliant minds analyzing that data. We have good algorithms. But the experience of the people on the ground, those who are banking their communities, is invaluable to us. Send comments when we request them. We can process our data but without you we don't get the benefit of knowing what happens in a small town or what happens to a farmer… We depend upon you.